You may remember me mentioning 'The List'.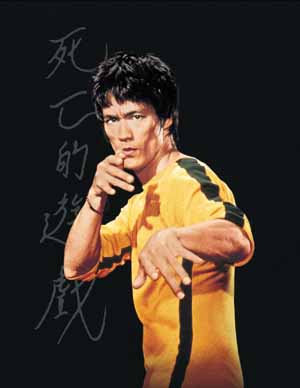 'The List' is something I found on IMDb (Internet Movie Database). It lists what is (in the opinion of the writer) the top 250 greatest martial arts movies of all time. The writer, 'Eric-Scissorhands', describes it on the page as:
"A genre as horrendous as it is pure genius, no one can deny that Martial Arts Action Movies have influenced some of the finest directors of the past 3 decades. This is the definitive list of the Top 250 Greatest Martial Arts Movies from The East, to West, And Back Again….

Movies that fall under my (Eric Scissorhands') "Martial Arts" category and will be considered and included here are as follows: Hand to Hand Combat, (Kung Fu, Hapkido, Filipino Kali, Jeet Kune Do, Muay Thai, Karate, Pankration, MMA, Etc…) Samurai, Ninjas, and Anything to do with Weapon Use & Swordplay."
I was pretty intrigued so I read through the whole list and made the decision, to start watching the movies in this list. After more thought I made the decision:
"I'll really make something of it. I'll watch every single movie, in ascending order (loosely, I'll throw a few in out of order, plus some movies are harder to find), then review and discuss it online and encourage others to join me!"
I also plan on creating a list of my own, of the most entertaining movies I've reviewed, so with each review a movie will be added to list, where I think it suits!
So that's why I started this website, and in case you're wondering whats on the list, I've put it below. This list may not be the current list (it does get updated occasionally), but this is the list I will be using, as well as throwing in a couple of movies not on the way that may or may not be on the list (everyone needs a break right?).
The List
And so below is the list! The title of the movies is followed by any notable Martial Arts actors (that I know of anyway!). I've also created my own list of movies I've reviewed so far, ranking them in order of what I found the most entertaining.
Fist of Fury – Bruce Lee
Fearless – Jet Li
Ip Man – Donnie Yen
The Legend of Drunken Master – Jackie Chan
Enter the Dragon – Bruce Lee
Fist of Legend – Jet Li
Kung Fu Hustle – Stephen Chow
Ong Bak – Tony Jaa
Way of the Dragon – Bruce Lee
Crouching Tiger, Hidden Dragon – Chow Yun-Fat, Michelle Yeow
Drunken Master – Jackie Chan
Bruce Lee: A Warrior's Journey – Bruce Lee (You guessed it!)
Police Story – Jackie Chan
Chocolate – Yanin JeeJa
Supercop – Jackie Chan, Michelle Yeoh
Hero – Jet Li, Donnie Yen
Dragons Forever – Jackie Chan, Sammo Hung, Yuen Biao, Benny 'The Jet' Urquidez
Heroes of the East – Gordon Liu
Tom Yum Goong (aka The Protector) – Tony Jaa, Lateef Crowder, Jon Foo, Nathan Jones, Johnny Nguyen
Wheels on Meals – Jackie Chan, Sammo Hung
Once Upon a Time in China – Jet Li
8 Diagram Pole Fighter – Gordon Liu
House of Flying Daggers – Zhang Ziyi
The 36th Chamber of Shaolin – Gordon Liu
Tai Chi Master – Jet Li & Michelle Yeoh
Project A– Jackie Chan, Yuen Biao and Sammo Hung
Ip Man 2 – Donnie Yen, Sammo Hung
The Big Boss – Bruce Lee
Unleashed – Jet Li
Iron Monkey – Donnie Yen
The Streetfighter – Sonny Chiba
Warriors Two – Sammo Hung
Wing Chun – Michelle Yeoh, Donnie Yen
The Legend 2 – Jet Li
Shaolin Soccer – Stephen Chow
Kill Zone – Donnie Yen, Jacky Wu Jing, Sammo Hung
Operation Condor – Jackie Chan
Flash Point – DonineYen, Collin Chou
Shaolin – Jackie Chan, Jacky Wu Jing
Once Upon a Time in China 2 – Jet Li, Donnie Yen
Dragon (aka Wuxia or Swordsmen) – Donnie Yen
Fist of White Lotus – Gordon Liu
Project A Pt 2 – Jackie Chan
Kiss of the Dragon – Jet Li
The Legend – Jet Li
Knock About – Biao Yuen, Sammo Hung
Police Story 2 – Jackie Chan
Dynamite Fighters – Michelle Yeoh
True Legend – Michelle Yeoh
The Prodigal Son – Biao Yuen, Sammo Hung
The Forbidden Kingdom – Jackie Chan, Jet Li
Kung Fu Wing Chun – Collin Chou
Odd Couple – Sammo Hung
Reign of Assassins – Michelle Yeoh
Shaolin Temple 2: Kids from Shaolin – Jet Li
Spooky Encounters – Sammo Hung
Undisputed 3: Redemption – Scott Adkins, Lateef Crowder
The Victim – Sammo Hung
The Iceman Cometh – Yuen Biao
Legend of the Fist: The Return of Chen Zhen – Donnie Yen
Fatal Contact – Jacky Wu Jing
Miracles – Jackie Chan
Batman Begins (martial arts? yeah right! don't think so)
The Executioner – Sonny Chiba
Rumble in the Bronx – Jackie Chan
Magnificent Butcher – Sammo Hung
The Young Master – Jackie Chan
The Shaolin Temple – Jet Li
Eastern Condors – Sammo Hung
Bloodsport – Van Damme
Dragon Tiger Gate – Donnie Yen
Curse of the Golden Flower – Chow Yun-Fat
Snake in the Eagles Shadow – Jackie Chan
Who Am I? – Jackie Chan
In the Line of Duty – Michelle Yeoh
Undisputed 2 – Last Man Standing – Scott Adkins, Michael Jai White
Bodyguards and Assassins – Donnie Yen
Black Dynamite – Michael Jai White
Legendary Assassin – Wu Jing
Dirty Ho – Gordon Liu
Robin-B-Hood – Jackie Chan
14 Blades – Donnie Yen
Twin Dragons – Jackie Chan
Legend of the Red Dragon – Jet Li
Ong Bak 2: The Beginning – Tony Jaa
City Hunter – Jackie Chan, Richard Norton
Blood and Bone – Michael Jai White
Righting Wrongs – Yuen Biao
The Lost Bladesman – Donnie Yen
The Millionaires Express – Sammo Hung
Moon Warriors – Sammo Hung
Seven Swords – Donnie Yen
Last Hero in China – Jet Li
Dreadnaught – Yuen Biao
Gorgeous – Jackie Chan
The Banquet – Zhang Ziyi
In the Line of Duty 4 – Donnie Yen
Blade 2 – Wesley Snipes
Butterfly and Sword – Mihcelle Yeoh, Donnie Yen
Legacy of Rage – Brandon Lee
The Enforcer – Jet Li
Rush Hour – Jackie Chan
Raging Phoenix – Yanin Jeeja
The Flying Swords of Dragon Gate – Jet Li
Tiger Cage 2 – Donnie Yen
Shanghai Noon – Jackie Chan
The Master – Jet Li
Enter the Fat Dragon – Sammo Hung
Love on Delivery – Stephen Chow
Zu Warriors from the Magic Mountain – Biao Yuen
The Kick -Yanin Jeeje
Dragon Lord – Jackie Chan
Forbidden City Cop – Stephen Chow
The Sorcerer and the White Snake – Jet Li
Haywire – Gina Carano
Romeo Must Die – Jet Li
Skinny Tiger, Fatty Dragon – Sammo Hung
The One – Jet Li, Jason Statham
Yes, Madam! Michelle Yeoh
The Fearless Hyena – Jackie Chan
Jackie Chan's First Strike -uh, Jackie Chan?
Rapid Fire – Brandon Lee
Ninja – Scott Adkins
The Karate Kid – Jackie Chan
Kickboxer – Van Damme
No Retreat, No Surrender – Van Damme
I search for these movies in the 'martial arts' section on Amazon.co.uk
(since I'm Australian, their Blurays are the same region as ours), and failing that I'll go onto the Amazon.com Martial Arts Movies Section
watch them on my region free Bluray/DVD Player.
Keep checking back for more info on how to keep up to date with what's being watched, and how you can get a hold of more movies easily.
If you want to check the original list out for yourself, it can be found here.