This is a kung fu movie with a twist – it's a comedy that tells the story in an extremely visual fashion and it's definitely good for a few laughs.
It's set in the 1940's in Shanghai.   There's crime everywhere as the Axe gang dominates the region as the most powerful organised crime group.  This Axe Gang, that usually attacks with Axes (of all things!) controls every part of the city except for the poorer neighbourhoods like pig Sty Alley (they have no interest).
Stephen Chow plays our main character, Sing, who arrives at Pig Sty Alley with his friend Bone (Chi Chung Lam), pretending to be members of the Axe Gang.  The stop to get Bone a haircut and try to evade paying the bill by saying it's 'too good' for an Axe gang member since they're bad guys, but the boy refuses to be threatened.  This leads to Sing calling out people in town to fight, and causing trouble (but refusing to fight by pretending  they're not good enough to fight him when he's actually scared to).
Eventually he throws a fire cracker off into the distance and hits the main member of the Axe Gang who happens to be walking past. The Axe gang then attack the villagers and the leader ends up being killed by some local unknown Kung Fu Masters.
The new leader of the Axe Gang then tries desperately to take revenge on the town and the Kung Fu masters who defended it, with Sing caught up in the middle.
A Unique Kung Fu Comedy
As I said before, the movie is very visual, and the jokes really take over the movie at times.
A classic moment is at the beginning when Sing is calling people out to fight him.  He first get's punched in stomach by an old woman which forces him to cough up some blood, to which he replies 'you're a farmer! Oh farmers don't fight..' and avoids any further conflict.  He then calls out a short ma who can barely see looking over the shoulders of the crowd, who is actually a really tall guy sitting down, once again he backs out.  This is followed by an old man and then a very young boy, who step out from behind the crowd to reveal massively built bodybuilder type physiques.  Naturally all these people scare Sing, but he simply covers by telling them to sit down because they're 'too wimpy'.
Even some of the lines such as the Axe gang saying "We're the bad guys, we're supposed to do the ass kicking!" are just blatantly funny, and makes the whole movie very light hearted and enjoyable to watch.  Perhaps just as funny is Sing's Martial Arts Background – Buddha's Palm Kung Fu.
This Buddha's Palm Kung Fu is a 20 cent booklet he bought off a homeless man for $10 when he was a child, and has lived his life under the belief that he will use it to bring world peace one day. In actual fact, it appears he's just been ripped off until the end of the film when actually uses it to defeat the world's best killer – Beast.  This Buddha's palm attack leaves massive hand sized holes in the buildings and the ground and is extremely powerful.
There's even a direct reference to Bruce Lee as the land lady does the point, finger wave, and knuckle crunch Bruce Lee used to threaten the Boss in Way of the Dragon, to which I nearly lost it with laughter watching.
When Sing Powers Up
It's revealed later in the film that Sing gets more powerful when he is injured, and the healing process makes him more powerful as his Chi energy activates and flows more through his body.  He then manages to 'go Super Saiyan' on the Axe Gang and beats them all to death, with bodies flying all over the place and landing in windows and other parts of the building.
After the rage and use of 'Buddha's Palm', Beast bows and declares he wants to be taught by Sing, and calls him Master (after his toad style was defeated).
The Martial Arts
The ridiculous fashion that some of the fight scenes are shot in a just visually hilarious, but at some points very artistic.
The fight scene with the harp is actually quite relaxing to watch, and superbly put together.  The sound and nature of the Assassins' movements is so perfectly timed and rhythmic that it's hard not to be impressed for a kung fu comedy.  They make an excellent use of wires and CG, which would otherwise be frowned upon.  But since's it's a comedy it definitely has it's place in this movie.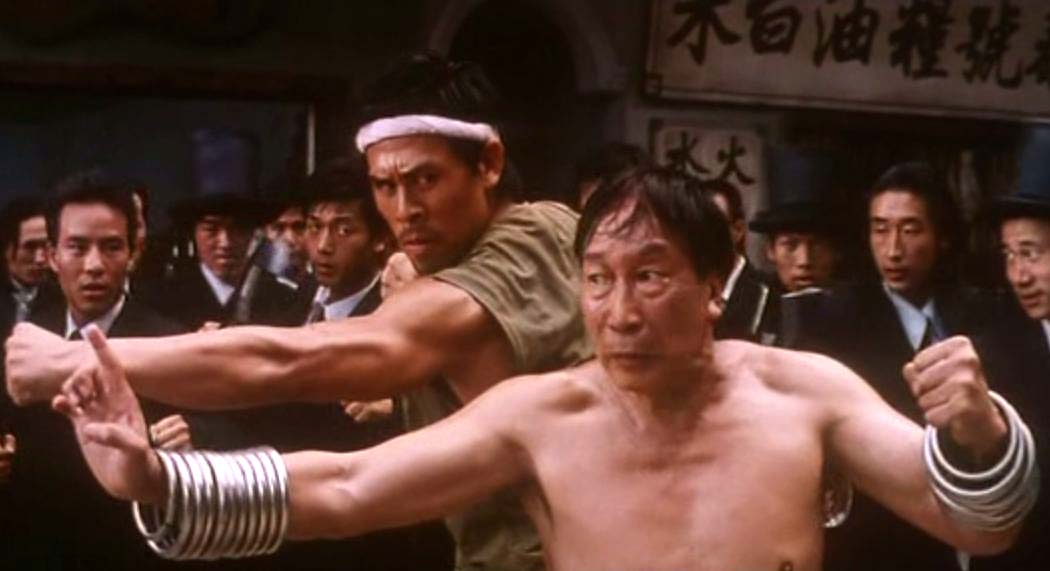 Stephen Chow's martial arts is pretty well done, but obviously the focus is on the visual comedy so you only see bits and pieces.   The Kung Fu masters at Pig Sty all have pretty unique styles and abilities that make this very interesting to watch, and comments on the old-fashioned kung fu flicks pretty well.
A definite watch for Kung Fu movie fans who want to see something different. It's quite easy to find too.