This epic movie is based on the historical Chinese Battle of Red Cliff in 208/209AD.
It's a hell of a movie and probably the longest movie I've ever watched, spanning in total of well over 4 hours and 40 minutes (split into 2 x 2hour 20 minute halves).  But it's well worth the time to watch!
The movie starts off with a bang, showing a battle between a powerful Chancellor Cao Cao's and Liu Bei's men.  Liu Bei is considered a Southern Warlord by Cao Cao who is under the reluctant order of the emperor to eradicate.  Liu Bei however is a kind and moral ruler, and is being forced to retreat and do what he can to protect his people as they evacuate.
After they have successfully escaped, there is talk of Cao Cao's next target, Sun Quan.  They ride to form an alliance with Sun Quan and prepare for the attack of Cao Cao.  Together they devise strategies to handle Cao Cao's army and protect their home by defending a small area in the mountains known as Redcliff.
A lot is happening!
The description above describes what the story is about more or less, but the smaller events within this war, including the decisions and relationships within it  are the real story.
Cao Cao is an evil man who is waging war for selfish purposes – to find Zhou Yu's (who leads Sun Quan's army) wife, who he finds as the mosty beautiful woman he has ever seen, and make her his (obsessive much?).
Among everything going on Sunquan must make the difficult decision to wage war, while his sister Sun Shangxiang wants to be part of the battle and is always trying to gain the respect of her brother.
In my opinion the most interesting in this movie however is the character Zhuge – a battle strategist.
A Terrific movie on War.
Throughout this movie you'll see some awesome battles that match the scale of any other war movie, but with a difference!  Each battle has a unique and distinct strategy put in place by Zhuge.
He anticipates Cao Cao's moves and prepares a different formation and approach with each encounter that gives them a much needed edge – as Cao Cao's 'Million Man Army' (closer to 800,000 troops) faces  less than 10% of it's numbers with Sun Quan's army.
If you've ever read Sun Tzu's Art of War, you'll appreciate this film.  Each stratregy, right down to the very last fight clearly shows ideals discussed in Art of War.  How Zhuge understands the Lay of the Land, and as each side thries their best to demoralize the opposing troops.
One of the themes in The Art of War revolves around destroying an Army from the inside out.  Cao Cao sends over boats full of bodies plagued with Epidemic to kill of Sun Quan's men.  Zhuge recognises the strength in Cao Cao's Army as two men (the only men capable) of leading a decent naval battle – so he and Zhou trick Cao Cao into executing them with a brilliant scheme to gain more arrows and convince him that they are unloyal (despite being fiercely loyal).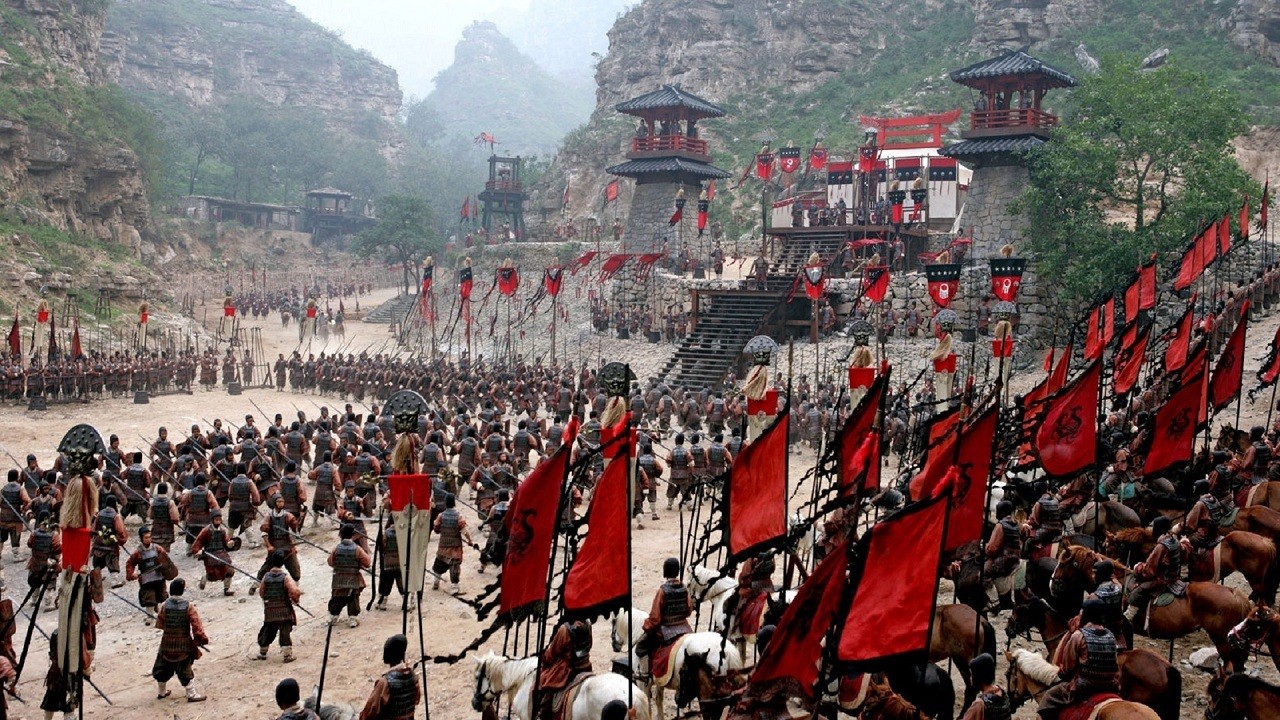 Cao Cao shows a tremendous ability to lift the spirits of his troops and keep them motivated for the fight, while Zhou and Zhuge try their best to 'look weak when strong' (I won't give this away) – another ideal from Art of War.
Ultimately this movie shows great character development but the most interesting is the way each side handles the war – it's not so much the battle of soldiers but the out thinking of each commander, weakening each side from within that makes it absolutely brilliant.
The Action & Martial Arts
This is a movie with lots of battles between lots of people – done extremely well.
The movie shows shots of some each side's best fighters taking apart soldiers in a a truly impressive way, showcasing a lot of excellent Kung Fu weapon work.  The use of wires is toned down to present a movie which is more grounded in reality, which in my opinion is perfect for this film – wires and flying monks would have just ruined it.
While there are many battles between men, there are a lot of 'bow and arrow' type assaults and scenes that step out side of the man on man fights into a more military style of action.
Chow Yun Fat was supposed to play the role of Zhou, but bailed just before shooting began – which I'm glad as Tony Leung did a marvelous job, and sold his ability to fight pretty well.
The Verdict?
This movie is hugely visual, but supported by a top story!
Ultimately, it is a movie that's strengths are military strategy told with top notch action.  I have no regrets investing almost 5 hours into it!  If you have the patience to watch a movie this long, even in 2 or more parts – do it!  It's an absolute classic!