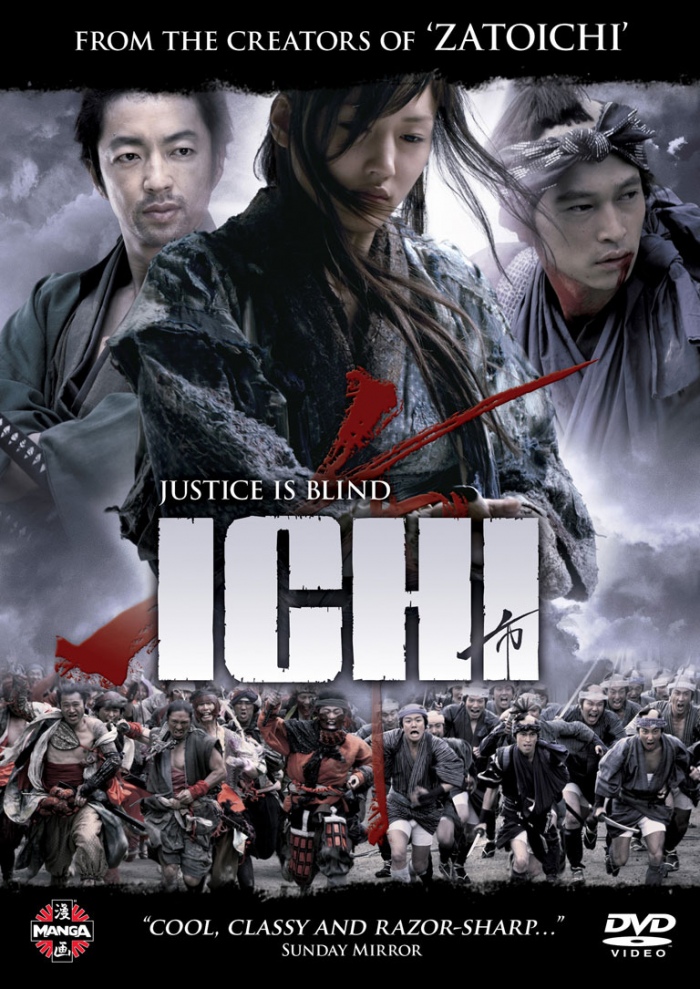 Ichi is a Japanese sword play film from recent years that follows in the tradition of Zatoichi – the blind swordsman.
Ichi, like Zatoichi, is blind and a swordswoman, and she seems to face some problems on the road.  Naturally there are bandits and people who love to take advantage of the weak.
The story really picks up when a young woman is being hassled by bandits when they find Ichi, and try to give her a bit of trouble.  That's when a young Samurai named Toma steps in, hand on sword ready to fight – only he stops and offers them something valuable to win them over.  Of course the bandits take Toma's gift but continue hassling Ichi, and Toma simply does not have the confidence to draw his sword and face them – that's when Ichi slices them up with her amazing swordwork.
Ichi and Toma then travel and eventually meet a boy named Kontaro and they walk about a small town before running into trouble with a powerful gang of bandits, again Ichi slices them up while Toma cannot draw his sword.   That's when a group of men arrive and give Toma credit for killing the 5 men himself.  They then hire him to be a body guard for their Clan's leader.
From there the bandits seek revenge and both Ichi and Toma end up as targets while they both have their own issues to deal with – Ichi must find Zatoichi and find out if he is her father, while Toma tries to come to terms with his lifelong phobia of drawing his sword.
 Zatoichi's daughter?
Zatoichi is popular movie series in Japan about a blind swordsman, this film has a character which could very well be his daughter.
We learn that Ichi was blind growing up and Zatoichi would visit and give her swordplay lessons, so naturally her style and approach are very similar.  In the same fashion she is almost unbeatable but the major difference is her character. Ichi is depressed and somewhat suicidal, she doesn't always step in to save the day like Zatoichi, and seems to have a lot more personal issues.
It's all relatively interesting but doesn't offer anything new really, but it's still entertaining.
Toma also has an interesting back story and we discover that he is indeed a fine swordsman (undefeated with a stick or bokken) and it's just his fear that stops him realizing his potential.  Naturally, his fear stems from a childhood accident when he blinded his mother with a sword – coincidence?  They love this theme of blindness!
Overall the story is not bad and seems to unfold a little slowly, as it seems to focus on the characters a decent amount, giving it a little more depth than I expected.
The Action & Martial Arts
As usual the swordwork in these films is pretty nice, and the draw and slice style of Zatoichi is matched with Ichi's swordwork.
There is a decent amount of action in the movie with most being saved for the end of the film, but what action you do see involves some very cool slashes and cgi blood (it's pretty obvious) flying all over the place.
Some of the sword work, and in particular one fighting scene, does a fantastic job of using slow motion to deliver a technically awesome looking fight where we see every move of Ichi's being performed to perfection, slicing and slashing her enemies.  It's presented very well and brings a more modern look to the film's action.
It isn't the most exciting action movie, but it's pretty good, a decent watch and fun for anyone who enjoys swordplay films.
On Blu Ray –
On DVD –