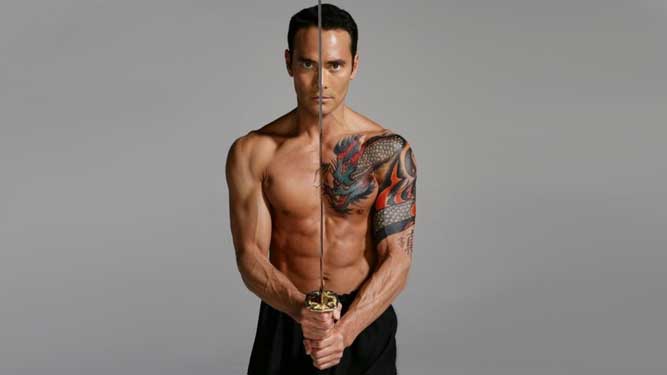 Mark Dacascos is a hugely underrated martial arts star with some incredible moves.
While most mainstream movie goers know about Jackie Chan, Donnie Yen and even the likes of Scott Adkins, a lot have no idea who Mark Dacascos is or what he's capable of.
But Mark is every bit as exciting to watch in his fights scenes as the all time greatest actors out there.  So I recommend checking out at least some of his best films.
So where to start? If you want get a serving of Mark's work, here's some movies for you to watch 🙂
There's no particular order here, however his best films are more toward the top of this list!
Only the Strong
This film is from 1993 and centers around the Brazilian Martial Art of Capoeira.
Mark Dacascos plays Louis Stevens, a former Green Beret who has years of training in Capoeira.  He arrives in Miami and returns to his old High School where he meets a teacher that once helped him pull his life to together.  He notices that the school is overrun with gangs, crime and violence so he starts a Capoeira class in an attempt to foster friendship and turn the negativity around.
Naturally one of the gangs has a head member who, coincidentally, also knows Capoeira.  So a little rivalry grows and eventually there's the showdown you come to expect from any martial arts film.
This film has a very standard plot but does an excellent job of showcasing Capoeira and some of Mark Dacascos' talents.  It's well worth the watch!
Drive
Drive is Mark's top film!
The story, again, is pretty standard and it's not without it's weaknesses but the action is at such a high quality that those elementsare easily overshadowed! Mark's performance in this film is like any chart topping martial arts film from Hong Kong in regards to action – except that this film is American.  The acrobatics and intensity Mark brings to each fight is astonishing.
What's it about? He plays a sort of genetically engineered super-solider on the run from the people  who want to use the technology behind his strength for evil purposes.  No surprises there!
If you want the best film Dacascos has on offer, watch Drive!
Brotherhood of the Wolf
This is a pretty solid film and shows off a decent amount of Mark's ability, yet he isn't really the lead character.
This film is set in France hundreds of years ago and there are tales circulating of a monster living nearby. That's when Grégoire de Fronsac and his friend Mani (Mark Dacascos) arrive to investigate, and find a scientific solution.
There is a bit of action showcasing Mark Dacascos' excellent abilities and is a generally fun film to watch.  It's not really a "martial arts" movie purely, but a good action thriller showcasing small snippets of Martial Arts chroegraphy.
Crying Freeman
This is a cool, dark film about a professional assassin who is cursed into his job by greater powers.
The Freeman, who cries often (hence the name) is played by Dacascos and is known for killing anyone who sees his face while he's on the job. This time a young woman sees him by pure chance after he executes a target but he doesn't kill her.
The Freeman decides to meet this girl, do the movie thing (you know, make some moves and do the dance with no pants) and becomes protective.  But of course there's some evil Japanese Yakuza who want to kill the Freeman for this lapse in judgement.
This film relies mostly on gun fights but is pieced together pretty well. The finale is where we get to see Mark show off some of his martial arts with some nice fancy slow motion kicks and movements.  Not his greatest film but still one his best, it's worth checking out.
Double Dragon
The super dorky 1994 film Double Dragon is based off the video game stars Mark Dacascos as Jimmy Lee.
Basically Jimmy Lee and his brother have half of a powerful and ancient Chinese talisman, while an evil criminal / businessman named Koga Shuko has the other half.  So you can probably guess that these two guys end up fighting off this villain – who is played by the T-1000 – sorry, Robert Patrick.
It's funny that this movie is a fan favorite of Dacascos fans as most critics give this box office flop very negative reviews. It does have some authentic martial artists working behind the scenes and some decent martial arts action.
The Base
The Base is another Dacascos film which was released in 1999. Mark plays an undercover Army intelligence officer, investigating an army base after their operations officer is gunned down.
Things get a little heated as a Sergeant there attempts to take over a drug business on the Mexican border and even starts killing some of the people involved.  Naturally Mark's character John Murphy infiltrates this group and works on taking it down.
This film features a lot of action is another favorite for fans of Mark's work.
Cradle 2 the Grave
This is a fun film about a group of fighters trying their best to stop the sale of some dangerous diamonds from going down which could put the entire world at danger (you'll see). Naturally our hero is none other than Jet Li!
Oh, yeah I forgot to mention that Mark Dacascos plays the villain in this one!
Cradle 2 the Grave is 2003 film  which has an awesome line up of stars including Mark Dacascos, Jet Li, Kelly Hu, DMX, Johnyn Tri Nguyen and even some of the old skool UFC big names like Tito Ortiz, Randy Couture and Chuck Liddell.
This is a fun and entertaining action movie with a nice showdown between Mark Dacascos and Jet Li in the films finale. I recommend checking this one out!
Redemption: Kick Boxer 5
After witnessing the murder of his friend David Sloan, Champion Kick Boxer Matt Reeves (Dacascos) heads out to exact his ruthless martial arts vengeance on those responsible!
Like a lot of Mark's martial arts films they aren't your typical Hollywood A-Listers but this direct to video movie has some pretty nice action for fans of Mark's kick assery.  If you're looking to complete your 'top Dacascos' film line up, check out Kickboxer 5.
Honorable Mention:
As usual there's some special mentions that don't fit the bill precisely but cannot be ignored, in this case….
Mortal Kombat Legacy Season 2
Mortal Kombat Legacy was originally a free web series released on YouTube – although season 2 no longer seems to be available for free.
Dacascos plays Kung Lao and showcases his usual level of cool martial arts acrobatic ability.  The reason it's not on the main list is because it's not a "movie" but a series of short films.
If you're a fan of Mortal Kombat and Mark Dacascos, check this one out for a bit of fun!
What are your thoughts?
Did I blasphemously leave something out? Leave a comment below and let me know what you think!
Thanks for reading 🙂