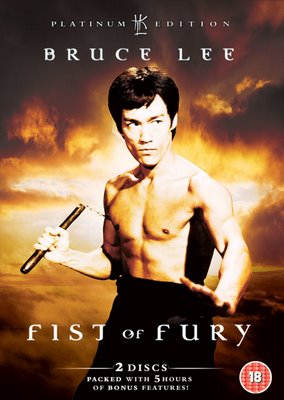 Finally – the first movie review from 'The List' – Bruce Lee's Fist of Fury (hells yeah!).  It was made in 1972, and recorded in Mandarin – unfortunately not with Bruce's voice as he didn't speak Mandarin (his native language was Cantonese).
Fist of Fury is the first movie to feature the iconic character Chen Zhen.
A little about Chen Zhen and Fist of Fury.
Chen is the main character of Fist of Fury, played by the Bruce Lee.  Chen returns home at the beginning of this film to mourn the death of martial arts master Huo Yuanjia, founder of the Jing Wu school in Shanghai. Upon Chen's arrival he has gone completely mad, in utter disbelief that his master could have died from pneumonia, claiming he was in perfect health.
Shortly after, a group of Japanese men enter the school, lead by their Chinese interpreter Wu.  As the men enter they begin to taunt the remaining Jing Wu students in their masters absence, giving them a sign that reads 'Sick Men of Asia'.
Needless to say, Chen nearly loses it.
After being calmed by his fellow Jing Wu students, he refrains from getting violent, only to pushed just a little more.  After they leave, Chen then makes a trip to the Japanese Bushido school (that the group came from) to 'return' their gift of the 'Sick Men of Asia' sign.  He then picks a fight, and simply wipes the floor with the entire school, in awesome Bruce Lee fashion (punches, kicks, nunchaku, you get the idea). This causes him more trouble, and the Japanese then want to get a hold of Chen Zhen and make an example of him, all the while trashing the Jing Wu school.
Later, during the later hours of the night, Chen is up, and hears a disturbance.  As he goes to investigate he discovers that the local Cook Tien and Housekeeper Feng are Japanese spies, and overhears them discussing the success of poisoning Chen's master.
Needless to say, Chen loses it.
Chen attacks the two spies and kills them using the Fist of Fury.  It then becomes a back and forth, racially charged war of Chen picking apart the Japanese group and killing off each of the main men, before facing off against the head of the clan, Suzuki.
The Racism in Fist of Fury
When Bruce was in his prime, racism against the Chinese was a big issue he dealt with regularly.  The statement in the sign presented to the Jing Wu school saying 'Sick Men of Asia' is reportedly a statement made by an opponent of Huo Yuanjia back in the early 20th century (aimed at the Chinese).
Bruce had a very clear message against racial oppression in this movie.
During the initial confrontation with the Japanese in this movie, one of the Japanese men states that if anyone of the Jing Wu can defeat him in a fight, he'll eat the sign.  Much to Chen's aggressive character, at the end of the Bushido school fight, he makes this man and another, eat the paper from within the sign, before heading out.
Interestingly, Bruce also included a scene where Chen goes to enter a park, only to be denied access. He is shown another sign that states 'Dogs and Chinese not allowed', then watches as a Japanese man walks a dog into the park.  Chen's reaction is to overcome this oppression after a Japanese man suggests he acts  like a dog in order to be let in.  Chen then proceeds to give these Japanese men a flogging before destroying the sign.
That scene resonated deeply in the Chinese community during the initial screening of Fist of Fury, and made Bruce Lee not just famous, but a heroic icon of China, stating that you should be proud to be Chinese.
In opposite fashion, the interpreter Wu is later faced with the same suggestion – "act like a dog when you leave".  In complete fear and lack of confidence, he does, before being ambushed by Chen and killed after declaring "I'm just a dog, don't hurt me!".

The 'Martial Artiness' of the movie
While the fight scenes are exciting and far before their time (it's Bruce Lee man!), there's a fair amount of thought put into each one.
The title 'Fist of Fury', describes the technique Chen uses to kill his opponents.  This 'Fist of Fury' is a move that will supposedly kill with one strike, when executed properly.  I find it interesting that Bruce Lee would include such an unrealistic technique in one of his movies despite his quest for realism, but then again he didn't have complete control.
Bruce does however begin with simple techniques in the earlier fight scenes, punching and kicking mostly (as well as some Nunchaku) but elevates the level of technical martial arts towards the end of the movie.  It is during the final fight scene that Chen begins to kill opponents with more realistic martial arts techniques, and includes a few different techniques like a collar bone strike in the dojo, and escaping the armbar that the Russian fighter Petrov puts on him (among other techniques).
When this armbar is applied, Chen struggles before biting Petrov's leg thus releasing the armbar – a real testiment to Bruce's Jeet Kune Do concept – having no limitation and doing whatever is necessary.
Bruce even references some techniques from the actual Jing Wu martial arts style whilst fighting Petrov, in testament to the character Chen's (a fictional character) master Huo Yuanjia (a real martial artist from early 20th century).
Movie Connections
The character of Chen Zhen has since become somewhat of an icon, as he was destined to after being played by Bruce Lee.  There have been remakes, including Fist of Legend starring Jet Li, and the Fist of Fury TV Series starring Donnie Yen.
They've even gone as far as to create sequels like the New Fist of Fury with Jackie Chan and Legend of the Fist: The Return of Chen Zhen with Donnie Yen.  All them paying a great tribute to the character and Bruce Lee himself.
Just take a look at the Wikipedia page for a full list of 'Chen Zhen' appearances!
Where to buy Fist of Fury
Fist of Fury isn't a hard movie to find, but you can get it online quite cheaply and easily:
Bluray
Region A (US & Canada)
Bruce Lee Legacy Collection (4 BluRay/ 7 DVD) [Blu-ray]
On DVD:
Region 1
United States of America & Canada –
The Chinese Connection (aka Fist of Fury)

Bruce Lee Ultimate Collection
 – includes The Big Boss / Fist of Fury / Way of the Dragon / Game of Death / Game of Death II
Region 2
UK, Europe, Japan, South Africa and Middle East
Fist of Fury (2 Disc Ultimate Edition)

Bruce Lee 30th Anniversary Commemorative Box Set
 – includes The Big Boss / Fist of Fury / Way of the Dragon / Game of Death & Hardcover book.
Region 4
Australia, New Zealand, Central and South America
Fist of Fury