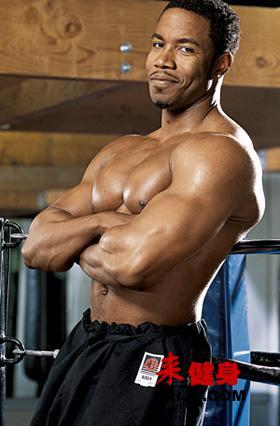 When it comes to real Martial Arts skill in Movies, it's hard to ignore Michael Jai White.
He's a man with a commanding presence, intimidatingly built physique, top persona and a martial arts background that is astonishingly world class – with 8 black belts and 40 years of training.  Also, it doesn't hurt that his fight scenes are smooth and exciting!
But these days The number of top martial arts movies to talented actors in the English speaking world are slim due to the lack of popularity compared to 'general' action films.
So I've compiled this list of Michael Jai White's best action films, where he shows off his martial arts skill either as the main style of action, or at least a decent chunk of it.
So why waste time? Let's get to it…
Undisputed 2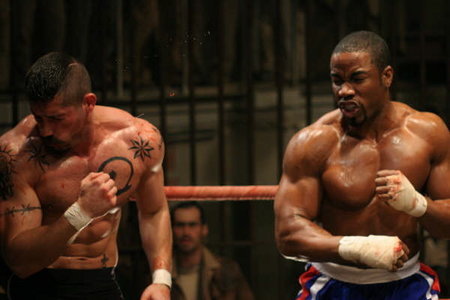 This film is one Jai White's most notable for Martial Arts fans.
Undisputed 2 elevated Michael Jai White's status as a fantastically skilled Martial Arts performer as he did all of his own fighting and action.
Jai White plays Chambers, a retired former heavy weight boxing champion who is framed, locked up and thrown into a Russian prison. His only way out is to defeat a Russian fighter named 'Boyka' to satisfy the corrupt prison owner Gaga.
This film shows two of the most talented martial arts performers in the English speaking world today: Scott Adkins and of course – Michael Jai White, in the roles that earned them the attention they both deserve. The fights are choreographed and performed to perfection. This is a must watch for martial arts film enthusiasts!
Read My Review | Find on DVD & Blu-ray
Blood and Bone
Man I love this film!
Our buddy Bone, played by Michael Jai White, gets out of prison and keeps his promise: to go after the man who stole Bone's deceased friend's wife and child in order tofree them from their current home and life of organized crime.
Bone breaks into the ranks of this organized crime via the underground street fighting circuit. Do I need to explain more?
Yep, lotsa fights!
This film has some very slick fight scenes and some awesome names from the world of Martial Arts.
You'll get to see Matt Mullins play 'The pretty boy', MMA Champ Gina Carano, O'Hara himself Bob Wall, former WWE wrestler Ernest 'The Cat' Miller, former UFC Champion Maurice Smith and in the rehab clinic you'll see an old man being knocked out who happens to be the martial arts and grappling pionner Gene Lebell – the former co stunt man of  Bruce Lee in the Green Hornet.
This film is a very cool collection of fights and names from the world of martial arts and of course Michael Jai White shows off the best moves he has as Bone – fighting and destroying all of his opponents.  A must see!
Black Dynamite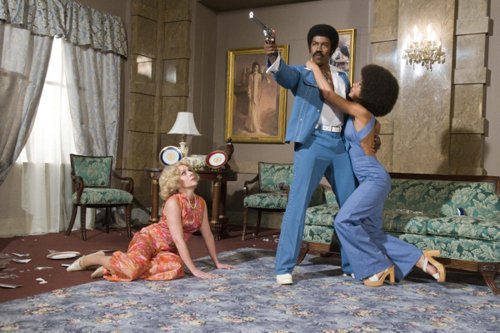 "Who the hell is interruptin' my KUNG FU??"
This film is very martial arts, very retro, blaxploitation and freakin' hilarious!
Black Dynamite is a former CIA, Special Forces, super unbeatable dude from the streets who everyone fears.  He's righteous, he's feared and everyone cowers at his name, 'Black Dynamite'. But then BD's little brother is killed so he must use his power to go out onto the streets and avenge his death in a hilarious and totally ridiculous fashion.
This film goes from the streets to 'Kung Fu Island' and all the way to the top – The Whitehouse.  The scale explodes quickly and it's a classic comedy film which shows very little regard for reality – it's just pure fun!
Despite the comedic element, Michael Jai White still shows off some authentic martial arts in this film and it has a moderate level of action mixed with on-screen hi-jinks that poke fun 1970's Kung Fu cinema and movies in general.
If you love blantant parody style comedy and kung fu films – watch this!
Read My Review | Find on DVD & Blu-ray
Falcon Rising
Michael Jai White has slipped back into serious mode for this awesome action film.
Falcon Rising is the first in a series of films surrounding the character of Falcon – a highly trained operative who kicks ass with his both armed and unarmed combat skills. In this first film, he's going after a group of men responsible for the near-death of his sister, the only person in his life who seems to care about him.
This film unfolds very nicely and builds towards it's epic finale, showing bits and pieces of Falcon's mentality, skill and general ability to kick ass.  The finale is what makes this film as he busts up the operation Rambo style, stepping in as one man tearing apart a small army of criminals running the operations in the Brazilian favelas.
One of my personal favorite martial artists also appears in this film – Lateef Crowder.  This is a very nicely done action and well worth the watch!
Read My Review | Find on DVD & Blu-ray
Never Back Down 2: The Beatdown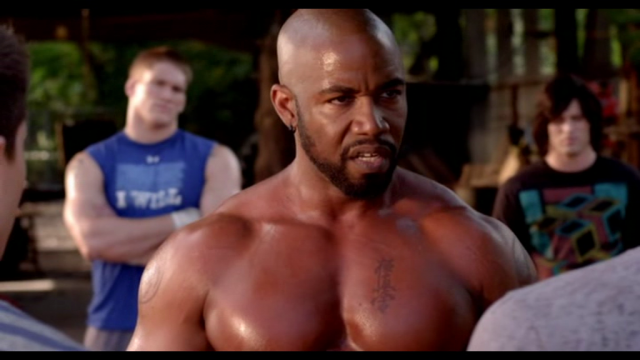 Fans of MMA will love this film.
Have you seen the first 'Never Back Down'?  It's about some snotty teenagers learning MMA and planning to fight each other as they are kind of like 'mortal enemies'.  It actually turned out not too bad and is relatively entertaining – but this film, despite the lower budget, is definitely better.
'Never Back Down 2' is about a similar thing – some young college guys who want to learn MMA and compete but this time there's more focus on martial arts themes and concepts.  We have a few guys here. One is poor and supporting his family, the other is a bullied kid form the street and the other two guys are more interesting – one is a wrestler who is kicked off his wrestling team and the other a skilled boxer who has been forced to quit boxing.
We see both guys evolve their fighting styles and complete the circle as one learns to fight on the ground and the other standing – the opposite of their existing abilities.
Where does Michael Jai White come in? He plays the coach of these guys.  He plays a former MMA fighter with an unrealized potential as a world champion named "Case". As Case, Michael Jai White plays a tough but very insightful coach who passes on some really cool lessons in MMA and Martial Arts.
But what's also cool is the few fights we get to see Michael Jai White in, the MMA his students compete in, along with the thoughts and concepts of the martial arts.
There's a lot of interesting and entertaining MMA themes in this film, well worth checking out.
Review coming! | Find on DVD & Blu-ray
Universal Soldier: The Return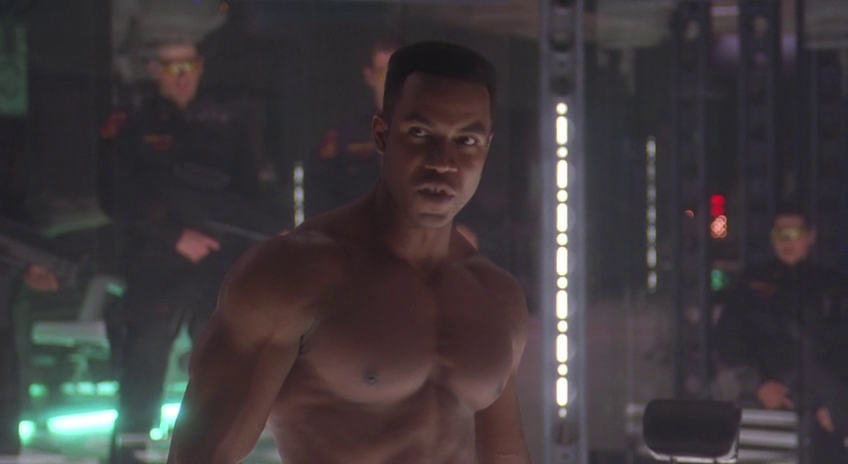 Good ol' Van Damme decided to come back to the Universal Soldier franchise and in 1999 released the sequel named "Universal Soldier: The Return".
Among all of the super strong 'universal soldiers' was a computer named Seth, who turned to the dark side of the force (sorry about the Star Wars reference) took over the most powerful body to become an unbeatable villain for Van Damme's character Deveraux.
Oh yeah, Seth happens to be played by Michael Jai White – important to note.
While this film is pretty basic and nothing special, Michael Jai White does a good job playing Seth and this is one of the first movies where he was able to show off his Martial Arts skill to the world on film.
As I mentioned, not his best film but has some nice action delivered by Michael Jai White and is worth watching if you're a die-hard Michael Jai White fan!
Read My Review | Find on DVD & Blu-ray
Tyson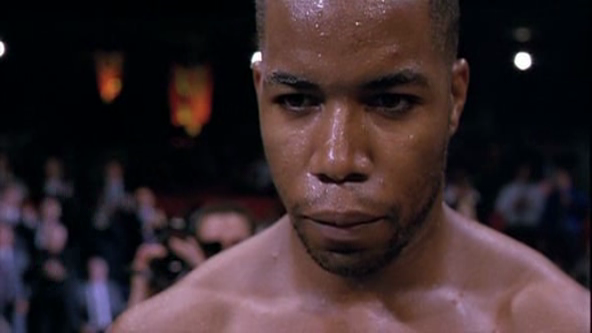 This is another less popular film that I thought was very well done.
Our main man Jai White plays former World Heavy Weight Boxing Champion Mike Tyson in this film covering his youth, rise to fame in boxing and his unfortunate downfall which landed him in prison.
The film isn't you're typical super explosive action film, but it does show off Michael Jai White's acting chops very well and of course, we get to see him portray the fighting style of one of the most famous professional fighters of our time.
If you're a fan of boxing and Mike Tyson, I'd highly recommend checking out this film.
This one is hard to find on DVD or Blu-ray, but you can watch it on YouTube.
Never Back Down 3: No Surrender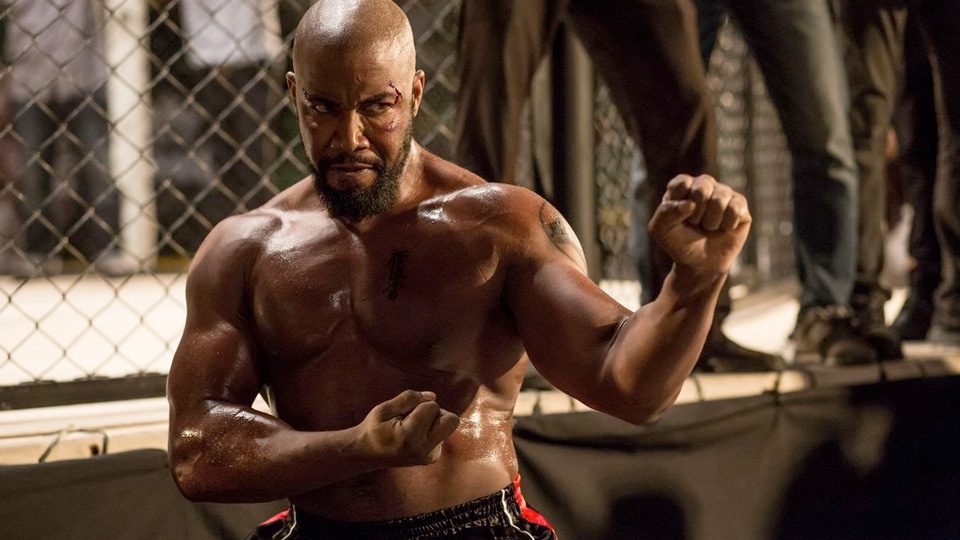 If you enjoyed Never Back Down 2 ( or if you didn't), this next installment is even better.
Jai White is back as Case and this time he's helping his friend, a professional MMA fighter played by Josh Barnett, train to fight a monstrous opponent played by the gigantic Nathan Jones.  When footage is caught of Case fighting in the ring at the training camp, a plot unfolds to force him to fight instead of Barnett's character.
So we get to see Jai White step up again and show us why he's the man!
This film is just another cool story story filled with more frequent, and frankly better martial arts action than the last film. His demonstration of Mixed Martial Arts fighting is impeccably technical and mixed with his karate background, making it a unique and fun film to watch.
This is one of my personal favorite Michael Jai White performances!
It's mixed with action as well as thoughts and theories on mixed martial arts and the applications of karate within it.
Skin Trade
Ok, so he doesn't have the lead in this film but it definitely makes the list.
You've got Tony Jaa working with Dolph Lundgren, so you know Jaa is bringing some awesome action. But what's the real gold of this movie?  Michael Jai White and Tony Jaa fight each other – 'nuff said right there!
Overall this is a pretty smooth movie and Jai White plays in interesting character, it's defintiely worth a watch.
Check out my review for more info!
Tactical Force
What do you get when a SWAT team act like a bunch of action movie stars, killing and shooting up places they're supposed to infiltrate and neutralize?
That SWAT team gets an ass chewing and a punishment for their careless ways.
Yeah, that's a little bit of reality for you, until they end up at a training facility (as their punishment) which turns into a full-blown action movie scenario where some crims end up taking over the building and forcing our guys to do what they do best – blow shit up, kick ass and take some names just so they can escape and survive.
It's your typical action film, far fetched and unrealistic but a lot of fun!  Michael Jai White plays a supporting role in this film but shows off some nice action and martial arts moves against his enemies whilst Steve Austin takes charge of the team and the lead of the film.
This movie barely makes the grade to appear in this list though, as it's nothing special really but does contain a few quick flashes of Jai White's cool martial arts abilities.
Read My Review | Find on DVD & Blu-ray
Bonus: Short Films
Jai White has a few cool short films under his belt which I felt were worth mentioning.
As a martial arts movie enthusiast, Michael puts the effort into smaller productions in order to help promote the arts he loves so much through some awesome action and storytelling.  Here's a few films he's had a great deal to do with…
Mortal Kombat Legacy
We're referring specifically to episodes 1 and 2, where we see Jax and Sonya go up against Kano with some top notch Martial Arts action.
Not only do we see Michael Jai White show off his moves and charisma as Jax, but he also fights off another truly talented Martial Artist – the late Darren Shahlavi.
These two films don't go for very long but they're a must see for Mortal Kombat and Martial Arts movie fans.  You can find them on YouTube if you're keen! We also have it available for watch here.
3 Bullets
3 Bullets is a short film starring some big names including our man Michael Jai White!
Jai White plays 'The Man', an undercover detective whose partner is murdered so he goes after the bad asses who did the deed (revenge anyone?). He steps in, armed with only 3 bullets to take them out.
This short film show cases some intelligently put together action blending gun work and martial arts to show of  Michae's style.  It's cool short film worth a watch, see it here.
Invictus
Not really an 'action' film but very nifty show case of a very young Michael Jai White reciting the poem 'Invictus' by William Ernest Henley.
We see Michael Jai White showing off his martial arts skill and impressive physique with a series of traditional karate movements, kicks, punches and even some nunchaku. It's not super exciting but an interesting watch for MJW's fans.
You can watch it here.
Many more to come, I'm sure!
Michael Jai White isn't a slacker.  He's got plans for many more martial arts movies including some more 'Codename: Falcon' movies and Black Dynamite 2.
It's exciting to see the future of this guy so we'll be keeping this list up to date.  If there's anything you feel is missing (Please don't mention Android Cop, let's forget that existed, also Spawn isn't really his top shelf work)  – please let me know!
If you enjoyed this post or found it interesting, please share it with anyone you think may find it interesting.  Thanks for reading!