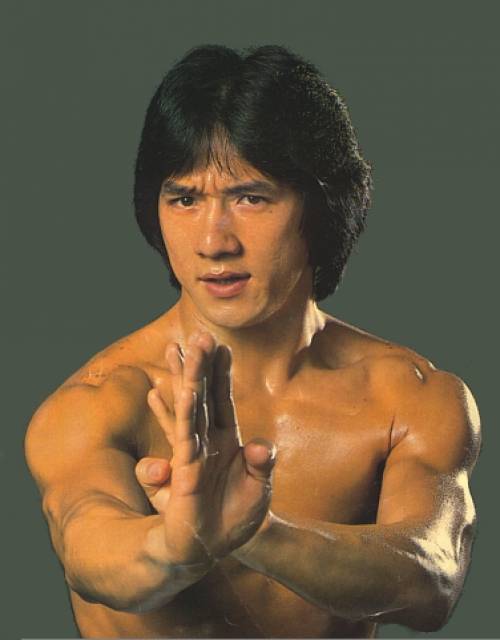 This is one hard list to write!  Jackie has made so many movies it's hard to sit and compare them all. But it's done!
Jackie Chan is known for some of the most complex fight scenes and choreography to ever make it's way to the screen.
Not only that but he's also risked his life time and time again for the sake of entertainment. That's something that just hasn't been equaled since his presence arrived in the movie industry.  He is without a doubt among the top handful of martial arts stars to ever have lived…
…and he's still goin'!
I decided to keep an eye out for complexity of the choreography as well as how exciting and intense the action is, and rank these movies by the quality of that action. After all, it's martial arts films we're lookin' at here and we wanna see the action!
So I won't blabber on too much more, here are the top movies our man Jackie has released, in no particular order…
Drunken Master
You can't have a "top ten movies of Jackie Chan" without mentioning the movie made him insanely famous and popular – the original Drunken Master from 1978.
This film is a pretty entertaining comedy as Jackie plays Wong Fei Hung during his youth, copping a bit of disciplinary action from his father and generally wanting to go about things in his own way (kinda like Jackie himself with the nature of this film).
He does eventually start learning Drunken boxing and a local martial artist named 'Thunderleg' arrives in town and becomes a problem, so Wong Fei Hung is sent to try out his new style on him.
This film is mostly comedy but in the purest kung fu theme as he finds a master to learn a new style to defeat his enemies.  It just happens to involve Fei Hung getting drunk and fighting a lot of other people along the way so naturally the antics come with the action.
This film is brilliant, and I loved every minute of it!  Most kung fu fans would agree so if you haven't seen it you need to watch it!
Read My Review | Find on DVD / Blu-ray
Police Story
This film is another pure Jackie Chan classic that everyone needs to see!
Jackie plays "Kevin" or Chan Ka-Kui, a police officer who is protecting a young girl from criminals.  Naturally the criminals belong to a large and very powerful organisation and "Kevin" is the guy who has to deal with them.  Before long he himself is framed and becomes a fugitive and he must fight these guys not only for law and justice, but to save his own innocence.
The film is PACKED with awesome action sequences, sandwiched between two of the most incredible scenes he's ever done. The film starts off with a chase which ends with Jackie hanging from a bus via an umbrella and doing the insanely dangerous job we all know him for.  Whilst the movie ends with an intense fight scene in a mall with Jackie showing off his martial arts skills.
It's had a powerful line up of sequels too.  Some continuing from this film, others with a new set of characters:
Super Cop and it's spin off Super Cop 2 with Michelle Yeoh
Jackie Chan's First Strike
New Police Story
It's one of the best action films ever made, and Jackie weaves his comedic gold into it a long the way, making this film an awesome contrast of intense action and comedy.
Read My Review | Find on DVD / Blu-ray
Dragons Forever
Jackie Chan is known to many martial arts fans as one of the 'Three Dragons' – Sammo Hung, Yuen Biao and himself.
This movie stars all three dragons as best buddies bumbling their way through a slightly less than honest life. Chasing chicks, doing illegal deals with gangsters and catching their attention is nothing new for a Jackie Chan film, but as usual it's the physical performance this film offers that makes it great.
This film has an epic showdown at the end which involves all three men and kickboxing legend Benny 'The Jet' Urquidez and Hong Kong stunt man Yuen Wah.  The action is very fast and precise with all three men performing some incredibly well timed and perfectly executed maneuvers in their environment.
Another awesome Chan film, definitely a 'must see'.
Read My Review | Find on DVD / Blu-ray
The Legend of Drunken Master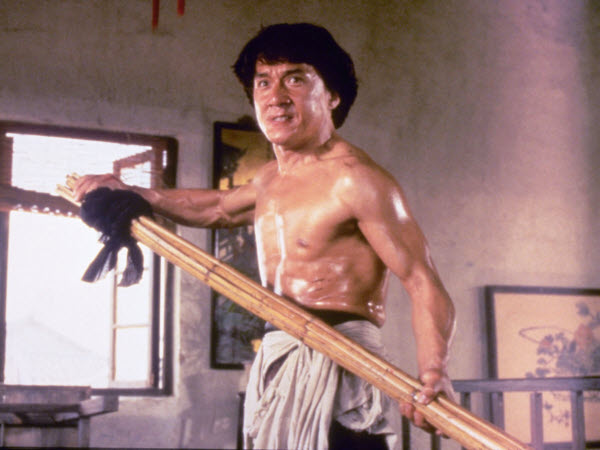 This would have to be Jackie Chan's most celebrated film.
Legend of Drunken Master was Jackie's final "kung fu" period style film of old, created in the early nineties with a stupidly high level of martial arts action polishing it off.
Wong Fei Hung is back as the Drunken Boxer from the first film, only this time he's fighting a different group of criminals who are stealing precious Chinese artifacts whilst fighting off his father's dominance, who disagree's with his lifestyle and practice of drunken boxing.
The finale is what makes this film awesome with the best action Jackie has been filmed in to date.  But the film also has many other great scenes that make it really complete.
This is the must see Jackie Chan film.
Read My Review | Find on DVD / Blu-ray
Wheels on Meals
This is another movie, like Dragons Forever, which features the famous trio of Chan, Hung and Biao as the main characters.
These 3 innocent guys run a food van but end up teaming up with a detective to rescue a beautiful girl and pickpocket names Sylvia.  Of course this catches the attention of a group of criminals and our trio gets caught up fighting them to save Sylvia.
This film is another from Jackie's prime and features some truly awesome stunts and fights. As usual, a top finale and we once again see Jackie fight Benny 'The Jet' Urquidez.  Awesome!
Read My Review | Find on DVD / Blu-ray
Armour of God
Imagine if Indiana Jones was played by Jackie Chan and was pulling off the usual stunts and awesome movements?  Well that movie is called Armour of God!
Jackie plays 'Asian Hawk' whose out to find some treasure with his sidekick Alan and a girl named May.  The encounter some strange monks who are defending the Armour of God and so yes, there's lots of fighting, running around and dangerous stunts.
This film was very popular, it spawned 2 sequels – Operation Condor and Chinese Zodiac.  It was also the movie in which Jackie, always hurting himself due to the nature of his work, was almost killed in one particular jump.
But you can't keep Jackie down!
This film is a fun adventure film with some solid stunt work and action. Not the best on the list but still a classic.
Review coming! | Find on DVD / Blu-ray
Rumble in the Bronx
After several failed attempts in the past, this movie is what broke Jackie Chan into mainstream American audiences!
Rumble in the Bronx is a bit of a parallel remake of Bruce Lee's Way of the Dragon.  Instead of defending some restaurant owners in Rome from some gangsters, Jackie's character defends his uncles shop in New York from young street gangs.
This movie does eventually take a different turn to Way of the Dragon though, as a larger & more powerful enemy emerges and this movie makes its way as Jackie Chan's own.
There's is some decent martial arts action but the movie changes nature toward large scale action and stuntwork.  It's still very much packed with Martial Arts action for the fight fan.
Read My Review | Find on DVD / Blu-ray
New Police Story
I LOVED the first Police Story movie (and because I said so, you should too! – just kidding 😉 ), when I heard about this one I had to watch it!
This movie removes the comedy element completely and becomes a dramatic film about a cop who gets his team members killed and has to deal with the depression and guilt for years after.  (It's not really his fault, they were killed by crims)
He gets teamed up with a younger cop played by Nicholas Tse, and the two work together to take the group down.
This film is an extremely well told story with a nice little twist at the end.
We see some good character development, some exciting action and that constant feel of things getting worse and worse.  But Jackie keeps it fun with his awesomely high level of stunts and martial arts action despite being 50 year old upon it's release.
This film is absolutely fantastic! Just don't expect any laughs, just drama and action.
Who Am I
Jackie Chan plays a secret agent who loses his memory on a mission and has no idea who he is. In true action movie style, Jackie's character is pursued by other agents and operatives who after him due to his "past life", but he has no clue why.
This film is just a fun action film, with a bit of comedy and some really well down martial arts at the end of the film. It's another high quality entry and, being made in 1998, is also one of the newer films on this list – apart from 'New Police Story'.
Read My Review | Find on DVD / Blu-ray
Project A
Another Classic Fan favorite is the film Project A.
Jackie Chan, Sammo Hung and Yuen Biao are back as coast guards fight off pirates in an awesome physical comedy that's packed with action. We also see some of the most dangerous stunts Jackie has performed, including falling a number of stories and landing on his head!
A fun film with plenty of Chan action, it's a definite must see!
Read My Review | Find on DVD / Blu-ray
Honorable Mentions – Rush Hour & Snake in the Eagles Shadow
Rush Hour is one of Jackie's highest grossing, and perhaps the most popular films.  But is definitely not, in my own and many others' opinions, one of his 'best' films.
Rush Hour is an East meets West style  police film which shows Jackie's strict Chinese character Officer Lee meet up with Chris Tucker's streetwise and very lax character Office Carter.
We see a number of humorous cultural differences and antics as the two work together to find and save a man's kidnapped daughter.
This film has some cool Jackie Chan action, but it's mostly the comedy that makes it great. Being a Martial Arts website and listing his top 'Martial Arts' films, this one just didn't make the cut but is still a classic all Chan fans should checkout at least once!
Check out my review for more info!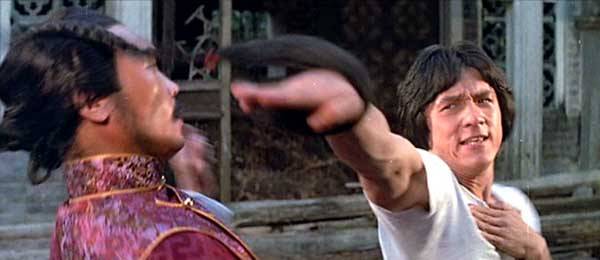 The second honorable mention, Snake in the Eagle's Shadow is was the first film Jackie found serious success in and it fed his reputation before Drunken Master made him the next huge thing in martial arts movies.
Jackie was himself in this film, choosing a formula more suited to him as opposed to being forced to act like 'the next Bruce Lee'.
For more info check out my review or grab a copy from Amazon.
Looking for more?
Jackie has made too many films for any one list to line up with all of the fans out there.  Some will disagree with the above but generally speaking these films have proven to be the most popular amongst action fans.
So if you have any changes you'd like to make to this list, leave a comment in the form below this article! 
Otherwise, check out some of our other top Jackie Chan posts below: