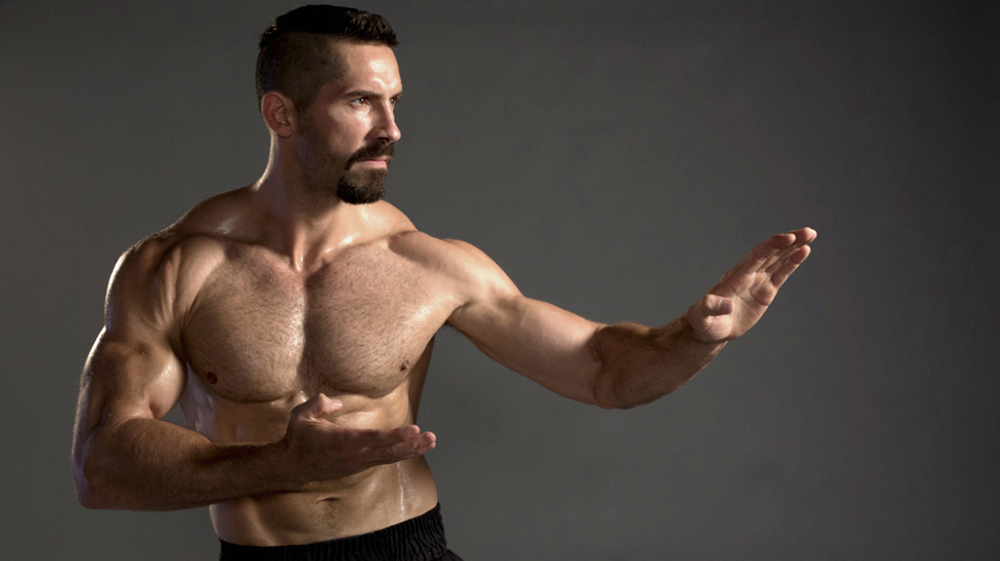 Scott Adkins has some top movies and he is one of the most popular martial arts movie stars on the screen today.
He's sits on top with the guys like Donnie Yen, Tony Jaa and seems to be building a loyal following of insanely enthusiastic fans – probably the strongest following of a martial arts movie star I can find online!
While he's been in a lot of films, he hasn't had a hell of a lot of martial arts movies released when compared with others in the industry. But the movies Scott Adkins has been in are absolutely fantastic with top notch action and martial arts mastery that only he seems to be able to muster.
So what are Adkins' best movies?
Below is the list of his top 10, in no particular order…
I was keen to write this list because I really wanted to single out only Scott's best movies – even just for my own reference.
Besides, I'll more than likely be updating this list soon considering the movies Scott has coming up. So here are the current chart toppers.
---
Ninja
Ninja's are cool.  Scott Adkins fight scenes are cool. Put them together and you get Ninja, which showcases some awesome Adkins action.
Scott plays Casey Bowman who is trying to protect a chest very sacred to his Ninja school.  A former training partner turned bad guy named Masasuka kills Casey's Master and is after the chest. So naturally there's a bit of conflict and the two go at it. All the while Casey is also being hunted down by henchmen.
So I'll admit, he doesn't get around in the ninja costume that much but this movie is packed with incredible fight scenes and really delivers some top action that any martial arts movie fan can appreciate.
Not only is it one of Scott Adkins' top movies, but one of his earlier leading roles and is well worth the watch,  This is not to be missed of you're a fan of his work.
Look out for the fight between Casey and 'The Ring' in a tribute to Bruce Lee's fist of Fury dojo fight scene.  It's awesome!
This is an early serving  of Scott's work but it's a classic, check it out!
Read my review | Find this movie online
---
Undisputed 2
What do you get when you combine the talents of Michael Jai White, Scott Adkins, Isaac Florentine and his crew?  You get Undisputed 2, a cult fan following for Boyka and career boost for it's two main stars.
This film raised Scott Adkins and Michael Jai White into the forefront of the martial arts movie industry.
Remember Undisputed with Wesley Snipes and Ving Rhames? Yeah it's nothing super special. Well Ving Rhames' character George (now played by Michael Jai White), the world Heavyweight Boxing Champ is having some financial difficulties and is taking a job in Russia to pay the bills.
So George gets setup so that a prison fight promoter named Gaga can pit him against his ruthlessly crazy champion: Boyka.
Boyka, the bad guy, is ridiculously deadly and carries an arsenol of Mixed Martial Arts fighting abilities. While George is just a 'hands-only' fighter, he starts out with only his boxing abilities and a nice statement is made on the evolution of martial arts and MMA as he adapts to Boyka's game.
The two don't get on (surprised?), start a rivalry and have an official no rules match with Boyka fighting for pride and George fighting for his freedom. The poor buggar!
This movie has awesome fights and action and has to be seen!
Read my review | Find this movie online
---
Undisputed 3
Boyka! Boyka! Boyka!
The classic underdog movie is back.  After George losing his fight in the first film, Boyka losing in the second we're off to start another underdog story (sorry if this spoils the movie above but you knew the bad guy would lose!)
Now Boyka is living a life of regret. He's become "a good guy" and is given his chance to fight for freedom in an international prison fighting competition.
This film shows his MMA / acrobatic style going up against some highly talented guys ranging from boxer, to Muay Thai fighters and even Lateef Crowder's visually awesome Capoeira style.
This film, like the one before it, is packed with action and high quality fights but with an overall elevated quality to the filming. This film cemented the cult following that the character Boyka has all over the interent – with fans demanding more!
Must….see….
Read my review | Find this movie online
---
Univeral Soldier: Day of Reckoning
This movie surprised a lot of audiences with a unique story telling and style of action far different from the previous Universal Soldier movies.
Scott's character wakes up with a single memory – the murder of his family.  
So he sets out to get revenge but things get a little weird in the process, that's when he must try to track down JCVD's character Luc, as he seems to be linked to the murder.
It's a different tone for an action movie but some of the fights during the film are done really well with the finale being an awesome way to end the series – meeting up with your favorites from previous movies like Dolph Lundgren and Van Damme.
My only complaint would be series wide in that the movies don't seem to follow any decent continuity.
But who cares? Action. 🙂
Read my review | Find this movie online
---
Accident Man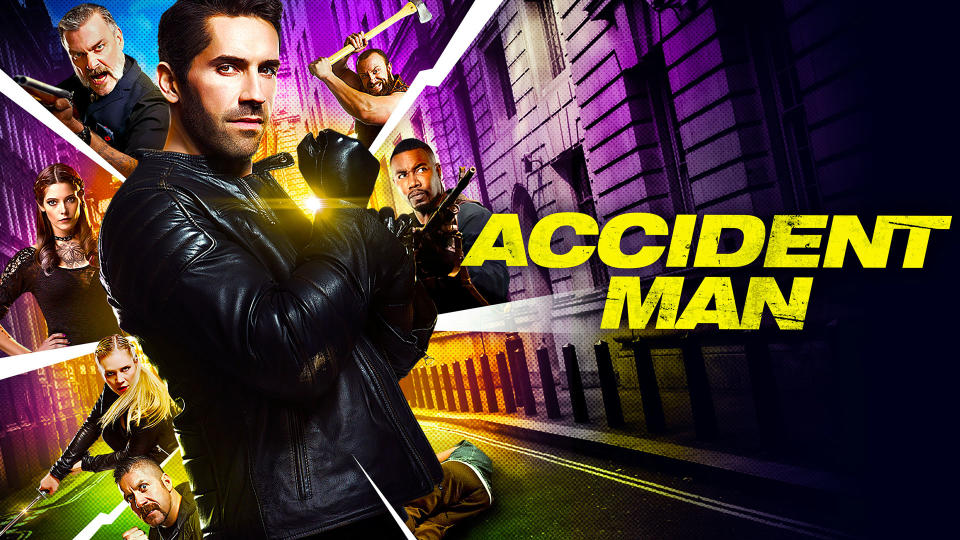 This film isn't just another Adkins Martial Arts film (using the word 'just' doesn't seem right when talk about his movies).
Accident Man is Scott Adkins' dream movie project based off the existing comic book. Being a fan, Scott Adkins even co-wrote the screenplay for this film.
Adkins plays Mike, an assassin who works for a league of killers.  Mike's specialty is making his kills look like accidents, and keeps things interesting by explaining his work with each kill.  The character of Mike I feel is one of Adkins most unique and personable and showcases his acting chops. In this film his ex-girlfriend and unborn child are killed by an assassin, so Mike tears the place apart to figure out whose behind it.
The film is packed with action, and also has a killer line up with Scott facing off against WKA Pro Kickboxing Champ Amy Johnston in an excellent fight scene along with Michael Jai White again and Darth Maul himself – Ray Park.
If you're a fan of Adkins, this is a project close to him and you can tell he put some of his best efforts into making it a fun and extremely action packed film that any martial arts film would love with that British twist added to it that most of his films don't carry.
Check it out 🙂 You can buy it online
---
Boyka: Undisputed
The Scott Adkins character with the massive fan following is back in the film Boyka: Undisputed.
This time around Boyka is free, no longer in prison and fighting his way up the ladder and about to enter the world of mainstream, legal mixed martial arts fighting. With so much potential in his future, Boyka has one fight to prove himself and enter the legal fighting circuit – but he fights a little too vigorously and kills his opponent.
Stricken by grief he tracks down the deceased fighter's wife when he discovers that she is in debt to the mob and her husband is no longer able to service their loan. So Boyka steps in and offers to fight in the mobsters tournament and defeat his champion, in order to free this woman of her debt.
This film carries all of the same qualities as the previous two with excellent martial arts action and easy to follow story telling.  Although the fights aren't quite as good as Undisputed 3 the character development in Boyka and the plot seem to be more in depth and well thought out.
Let's Hope we get another Boyka film soon because this one is fantastic!
Pick this movie up from Amazon.
---
The Eliminators
This film has some excellent pace and action.
Scott plays a former US federal agent named Parker whose house is mistakenly broken into.  When he is forced to defend himself and kills his attackers his face is plastered all over the news for murder.  That's when some old enemies discover his whereabouts and go after him.
The initial chase and pressure of the films grows nicely and the story slowly unravels and we learn piece by piece the truth about Parker's past.
Solid fight scenes and an entertaining movie that any Scott Adkins fan can enjoy!
---
Ninja 2 Shadow of a Tear
This film is one of Adkins very best – my personal favorite.
Ninja 2 is another revenge story in which Scott Adkin's character Casey loses his wife to horrible domestic murder by a ninja. So Casey's puts on his revenge face and heads out in the world to exact his vengeance.
This film is spread with ferocious and incredibly intense fights scenes that have fantastic choreography, shooting and of course a level & style of athleticism that only Adkins can deliver. There's no getting bored in this film – if you ever do, its quickly put to rest with some tremendous on screen violence.
This is a martial arts & action junkies wet-dream and, in my personal opinion, Scott Adkins' most entertaining film
The pace of the film is constant and keeps building and building as we watch Casey kicking ass and eventually dawning his Ninja costume to rid the world of his foes. All this happens just before a nice little twist and get some surprise after-time action!  Nice.
Check this film out if you haven't seen it.  It's one of the all time bests.
Read my review | Find this movie online
---
Savage Dog
Savage Dog is a film that takes place in post wartime Indochina setting, after Adkins' character Martin Tillman starts his new life after being imprisoned for several years.
Tillman is finally free, living the life working at a bar.  He meets a woman and settles down with her.  But when he is forced to deal with some roudy soldiers, he is pulled into a local fighting circuit.  When he doesn't follow what the big wigs ask him to do, his friends are attacked and is girl is almost killed.
So Tillman, left for dead, leaves to get revenge on those responsible!
This film has some nice action and even includes the talents of Marko Zaror and Cung Le in an action packed finale with gun fights and martial arts action.  Not the best on this list but one to watch for sure!
---
Special Forces
Ok, so this film isn't so great.  It's cheap, has some stale acting and even some really bad CGI and action.  To tell you the truth, it's more of an honorable mention…
.. but it's still cool!
Why?  Well it's the first decent role Scott had in an action movie, his first time working with Isaac Florentine – whom has been the man behind a lot of Scott's best films (Undisputed 2 & 3, Ninja 1 & 2) and it also happens to have a really cool fight scene toward the end of the film.
The fight is a good old fashion one on one showdown and kind of foreshadows Adkins future in the Martial Arts movie industry. It shows off his abilities and acrobatic martial arts very well, doing him justice.
Like I said, not a great film but one all fans should watch for a glimpse of early Scott Adkins action.
Read my review | Find this movie online
---
So, which one is the most popular?
I asked the fans on Facebook – and Undisputed 3 wins by a landslide!  I do personally believe Ninja 2 (coming in second place) to be the superior film but the classic character and cult following of Boyka is too strong to ignore!
Other mentions were films from the list above, like Undisputed 2 and Universal Soldier: Day of Reckoning were mentioned a few times.  I was happy to see a mention of Special Forces in there somewhere too – as I said above, not his best but noteworthy.
What do you think?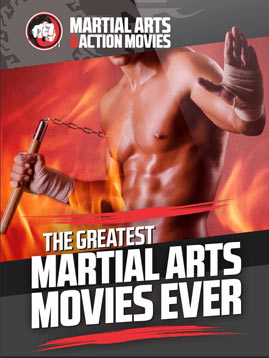 For more movie recommendations check out our premium Martial Arts Movies Guide here (pictured right)
If you have any comment or thoughts, please leave a comment below or share this list with your friends.  Otherwise thanks for reading and be certain to check out some of these films if you haven't seen them!
Otherwise, check out our Facebook page if you want more Scott Adkins  and Martial Arts Movie info! Thanks for reading.
One more thing: is there another film starring Adkins you think should be on this list? Leave a comment below, I'd love to hear your thoughts on Scott Adkins' career 🙂