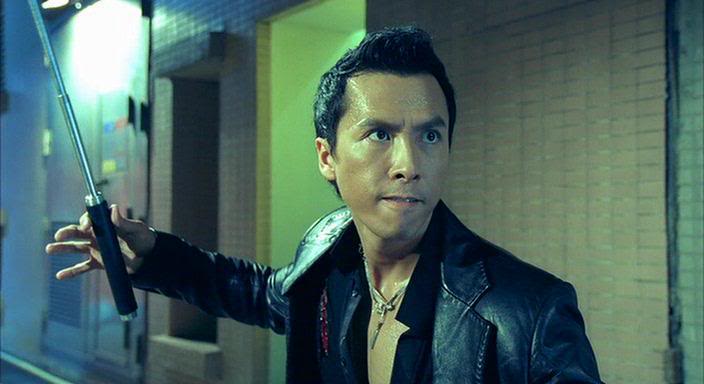 You've watched the Ip Man movies and want more.
You watched Star Wars Rogue One and Chirrut Îmwe was your favorite character.
When you witnessed the baton vs knife fight between him and Wu Jing in SPL Kill Zone, you had skip back just to see what happened because the action was so intense.
You've guessed it, I'm talking about Donnie Yen, the king of Hong Kong action films.  But what makes him so god damn awesome at what he does.  Why does everyone love Donnie Yen?
It's because he offers quality entertainment sure, but I thought I'd take a look at this guy and his career and why he is the King of Hong Kong action.
Donnie Yen lives Martial Arts
Donnie Yen trains in Martial Arts but on a crazy different level than most people.  He was born on 27th of July 1963 into a family where martial arts would be a part of his life. His mother Bow-sim Mark was Grandmaster in Tai Chi and studied the Kung Fu style Wudangquan.
Needless to say Donnie started young and had world class help under the guidance of his mother.  He started Kung Fu at nine years old and really dedicated himself to Wushu from the age of 14 and spent a lot of time at Boston's Combat zone. So much so that his parents were concerned he was overdoing it – which is a big statement considering his mother's expertise! At the age of 16 Yen then started Taekwondo.
Before long he was on the Beijing Wushu Team before visting Hong Kong and meeting the legendary Yuen Woo Ping.
On top of this Yen was heavily involved with break dancing and hip hop dancing – further developing his movement skills. This was all before he starred in his first film when he was 21! Since his film career started Donnie Yen has consistently expanded his area of expertise and knowledge within martial arts.
Below are the styles he is known to have expertise in:
Tai Chi
Taekwondo 6th Dan Black Belt
Judo Black Belt
Wing Chun studied under Ip Man's on Ip Chun
Brazilian Jiu Jitsu Purple Belt
Wushu
Parkour
Wrestling
Muay Thai
Mixed Martial Arts
So yeah, Donnie Yen is one incredibly experienced martial artist off the screen.
But there's more to it than that! Donnie prefers to work with real martial artists in his films to keep a level of authenticity to the fight scenes. This explains why he often works with guys like Jet Li, Collin Chou, Jing Wu, Xing Yu, and Siu-Wong Fanto and Cung Le. That explains why the fight scenes in his films seem to be a cut above the rest.
He's not just a 'stunt guy'
Donnie Yen is known as the guy in front of the camera, performing incredibly fast and technical martial arts movements most are astonished to see.  His intensity sent him from strength to strength in his career as he was noticed in some successful films.
In 1992 Donnie Yen become very recognizable after battling Jet Li in Once Upon a Time in China 2, he then stepped it up again with Iron Monkey which became a huge success. Then 10 years later SPL Kill Zone put him on top of the mountain for his insane level of action. Donnie then reached a legendary status in Ip Man which is considered one of the all time greatest martial arts films – making him known as one of the all time greatest martial arts actors ever to grace the screen.
That's what most people see and yeah, it's all true.
But Donnie Yen has fought quite tirelessly to take things a step further and isn't just some martial arts guy placed in front of the camera like a high performing chess piece.  Yen is responsible for a heap of the action behind the scenes too.
Donnie Yen started Directing in 1995 in the film Legend of the Wolf.  He also started to choreograph fight scenes and was busy in Hollywood working on films like Blade 2 creating excellent fight scenes from behind the camera (and sometimes in front of it.)
Donnie Yen  transcended being just an actor to become a director, choreographer, producer and even started his own production company. He has been working on mastering the entire art of film and not just his ability to kick and punch.
It wasn't always easy as he almost went bankrupt in the late 90's due to his critically acclaimed yet box office failures.
Donnie works behind the camera and takes control of his performance in a more far reaching way than most actors, it's no surprise he is able to navigate his way to legnedary status considering his background, focus and diverse range of expertise!
He keeps his films and the martial arts styles diverse.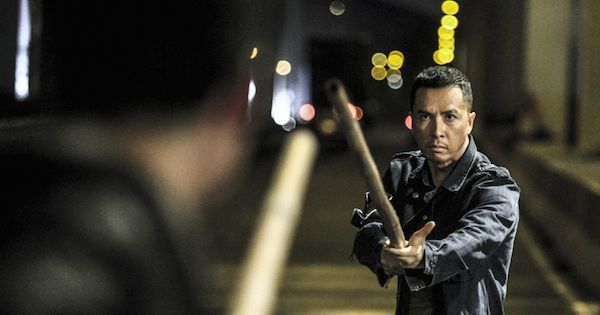 If you take a good look at Donnie's film career, you'll notice his films switching and bouncing from style to style in many aspects.
He started doing a lot WuXia style kung fu films, but also jumps in and out of crime films, he's adapted comic and fantasy based characters in films like Monkey King and Dragon Tiger Gate and continues to mix up the settings of his films. He also motivates and drives his action quite often with emotional urgency to add to the tension.
He maintains a freshness in his career which a lot of actors don't seem to do as they tend to create the same things over and over again. Even the story telling and feel of his films are different, compare the dark thriller setting of SPL Kill zone to the mystery of Dragon and again to the fun comic feel of Legend of the Fist and you can see what I'm talking about, this further extends into areas and nuances of his performance also.
The martial arts is quite mixed and diverse.  Even in his early career his high energy kickboxing/acrobatic style of striking in films like In the Line of Duty and Tiger Cage II are in stark contrast to the Hungar / Kung Fu style he uses his Iron Monkey or Once Upon a Time in China 2.  This continued into his later career as he introduced MMA and grappling into his modern crime films, maintained some Kung Fu style in his WuXia films, and even focused on Wing Chun specifically in the Ip Man films before creating a colorful mix in Legend of the Fist.
I could go on, but Donnie Yen is always mixing up and creating fighting styles for his characters.  Again, he maintains a fresh and exciting uniqueness to his every performance.
If you've done like I have and watched as many Donnie Yen films as you can get your hands on, you'll easily notice this diversity and appreciate it on so many levels.
He followed in the Footsteps of Giants (or this case giant).
Donnie Yen idolized the Kung Fu stars he grew up watching.
Specifically, Donnie Idolizes Bruce Lee and this approach to martial arts and life.  There's some great similarities between the two as both men have spent a decent chunk of their lives living between Hong Kong and the United States.  Just as Bruce wrote, directed, produced, acted and choreographed fights in his film career, Donnie Yen as followed suit as mentioned previously.
This is something you see a lot in successful people has they have an idol, mentor or role model which lays the foundation for their plans in a "if he can do it, why can't I" thought process which can send hard working people down legendary paths. Even Arnold Schwarzenegger followed the path of Bodybuilder to Actor and even businessman after seeing it being done by Reg Park in the Hercules movies.  Donnie and Bruce are of the same mold.
Donnie even uses the "o-face' in a similar way to Bruce in his films!
Donnie also adapted Bruce's philosophy of finding his own style, which in a way is transcendent of this point as following in these footsteps lends itself to the idea of starting with a similar approach but eventually taking control and going your own way.  Donnie is a walking example of that, having clearly stood out as his own unique personality.
Donnie Yen continues to amaze…
Donnie's not a young guy, he's in his mid fifties and you'd assume he's be slowing down – but he's still killing it!
The first and most visual thing to notice is that he's a guy in incredible shape.  In his late forties (see above) he still maintained a ripped and built physique and he has shown no signs of letting it slip since. He continues to be a role model for his hard work and dedicated fitness but also his incredible ability to move.  In his films he still maintains a level of intensity most don't have in their 20's.  It's insane.
On top of all of this he continues to work hard and be involved in the diverse and exciting film projects that promise to entertain exactly as he always has (see his top films right here). Let's hope he continues to do so for many years!
There's more to come…
So Donnie still has a number of films in the works so I look forward to seeing where he goes from here. If the past is any indication than I'm sure he's going to continued to keep us entertained and inspired as one of the cinema's greatest martial artists with the likes of Bruce Lee and Jackie Chan.
Keep your eye out for more of him in the future – to stay updated consider subscribing to our newsletter below and you'll also receive some free exclusive info.
That's it from me for now!  Thanks for reading this article and if you have something else you'd like to add, please leave as comment below!