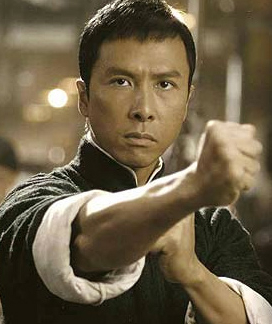 Donnie Yen has so many top action movies that are just so freakin' awesome!
When I first started this website, Donnie Yen's movies were like gold to me. I couldn't stop watching them as I got totally hooked with some of the best fight / martial arts film choreography I'd ever seen in film – and that hasn't changed!
To put it plainly – Donnie Yen is the man.
You've probably noticed him recently in movies like Rogue One a Star Wars Story or xXx – The Return of Xander Cage, but these films are nothing compared to below in regards to martial arts action.
Have you seen a lot of his movies? If not then you need to start!  Here are the movies you should start with.
To find out which were the true fan favorites I did some extensive research and I turned to our Facebook & Twitter followers, as well as Reddit and asked everyone what movies they liked the best.  I then tallied up the numbers and came up with this top ten, and also which one movie is the best overall.
I haven't ranked these in any particular order (until best overall), they are simply his top most entertaining films with the highest level of intensity and adrenaline mixed into the action.  These movies will give you that action film rush!
Ip Man 1, 2 & 3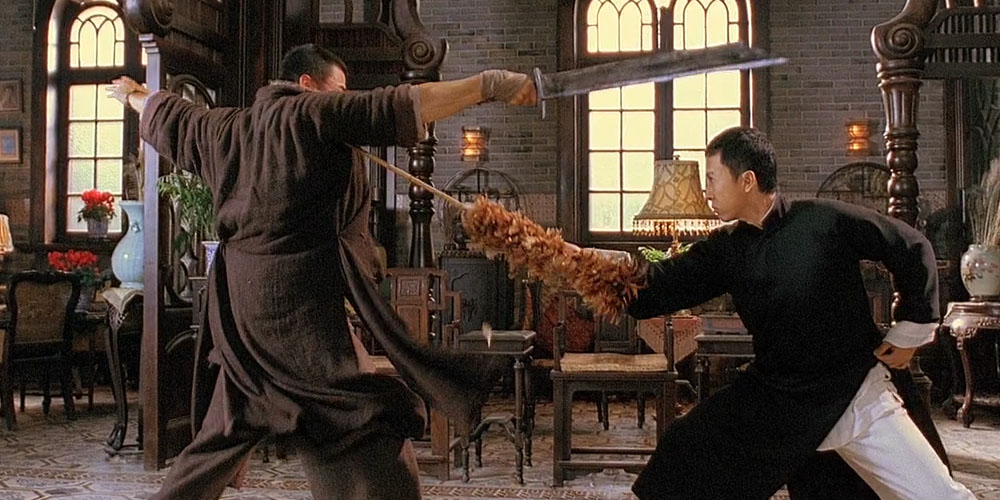 It goes without saying that these are without a doubt among Donnie Yen's top movies.
Ip Man is about the late grandmaster of Wing Chun, Ip Man…. or Yip Man – whatever way you want to say his name.
In the First film, Donnie Yen illustrates the fake life of Ip Man in the city of Foshan as he stands up to oppression and brings pride to his country.  He fights 10 men, a group of thugs and a the evil Japanese general himself whilst being basically an unbeatable kung fu superman.
It's close to the truth (?)…  he did live in Foshan, knew Wing Chun and eventually left for Hong Kong.
I'm being sarcastic of course! 🙂 This movie is almost 100% fantasy apart from his martial arts style and general location. But it still rocks.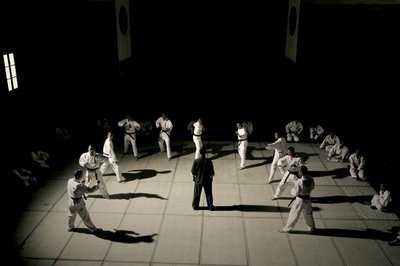 The second film is much the same, "based on a true story".  Yep, Master Ip lived in Hong Kong.  Add a little Kung Fu master fight off with Sammo Hung and a crazed Western Boxing champion (played by the awesome Darren Shahlavi) – you've got yourself a cool ass movie!
Obviously a true story would be incredibly boring, so these action packed and awesome Kung Fu films are basically fiction – but among the very best in martial arts cinema!  Donnie Yen plays a calm, composed and humble character in this film and portrays Wing Chun in a way that is both technically excellent and visually exciting.
The third film shows some more drama with Ip man's wife getting seriously ill whilst another Wing Chun practitioner enters the scene wanting to take the place as Wing Chun Grandmaster. We see more awesome action from all involved as Donnie Yen stpes things up again in a Wing Chun vs WIng Chun showdown, with a few other awesome fights along the way (including Mike Tyson!).
Hell, these movies have spawned a series of Ip Man movies by other companies that just, *sign*, don't measure up.
You really can't go past these movies.  They have top action and excellent (fictional) story telling.  You cannot miss these films.
Check out my review of Ip Man 1 or buy it online.
Also, find my review of Ip Man 2 here or find it online.
Looking for Ip Man 3 – you can get the Bluray/DVD here.
In the Line of Duty 4
This is some old-skool Donnie Yen action.
Remember when they sped up action in the 80's to make it more intense?  Imagine that with Donnie Yen behind the action! His level of high energy thrown into this 80's action film is totally fantastic.
There's nothing special here storywise, it's your classic 'Police go after bad guys' scenario.  Of course, all of the bad guys are big, lethal and know Kung Fu!  Luckily the cops know Kung fu too 😉
Donnie Yen is one of the leads playing a character named 'Donny Yan' – sounds very similar doesn't it?
It's dramatic, full of action and shows a much younger Donnie Yen going all out in his fight scenes.  If you get the chance – watch it!
Read my review | Find it online!
Flash Point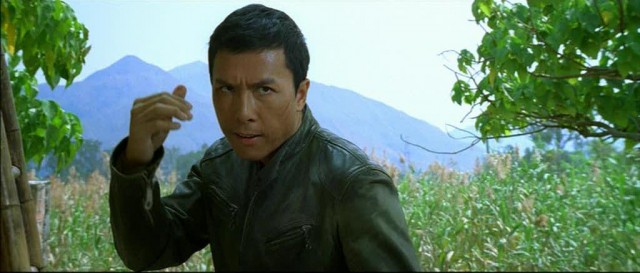 Flash Point is a much newer 'cops go after bad guys' story.  This time Donnie's Police buddy goes under cover with a dangerous Vietnamese gang who discover that he's really a cop.  They then go after him and his pregnant girlfriend.
Naturally Donnie's character has anger issues and some MMA training, so he steps in to sort these bastards out!
Donnie Yen then brings to the film some excellent MMA style fights, using a very stylized stand up game backed up by take downs and some Brazilian Jiu Jitsu (which he holds a Purple Belt in – source).  It's one of the very best portrayals of 'entertainment MMA'  in an action movie.  It's not realistic, but it's pretty exciting to watch!
Expect to see top names like Collin Chou and Xing Yu face off against Donnie in this one. Another top Donnie Yen film!
Read my review | Find it Online
Kill Zone (aka SPL)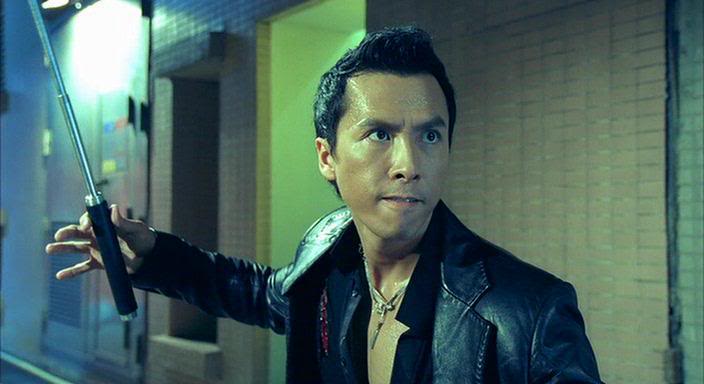 This movie has my favorite fight scenes of Donnie Yen's career.
This is another cop vs bad guys action film with a touch of drama and a twist ending to boot! What really makes this movie is not just the general feel and tone of the whole film, but the build up to the two finale fight scenes.
Who does Donnie's character face off against?  Martial Arts movie star Wu Jing and legend Sammo Hung in some more MMA styled action. Sammo plays a very convincing and intimidating crime lord whilst Wu Jing plays the scary and ridiculously skilled hit man that Donnie's character has to face.
The real gem is the baton to knife fight between Donnie and Wu Jing. This fight is one of the all time greatest fights in the industry.
Watch!!
Read my review | Find it Online
Tiger Cage 2
This is another slice of old skool Donnie Yen in this top martial arts movie!
Sped up action, cheesy acting  and a nice chunky finale to finish it off.  This movie feels very similar to Line of Duty 4, but is just a touch better in my opinion. It has the same intensity but is just a bit more entertaining from the very start.
I can't help but think of Donnie Yen swinging around a large sword when I hear about this movie, as he fights with in the finale – it's almost iconic of this film.
The fights are emotionally driven and have a real sense of urgency.  Well worth the watch!
read my review | Find it Online
Dragon (aka WuXia)
This film has a different strength on top of the sweet action – an interesting plot that has you guessing throughout the start of the film.
Donnie plays a harmless villager who kills some dangerous thugs during a robbery.  But questions are raised about his physical prowess and his true identity when a detective comes to town trying to figure out what really happened.
The result of this is a movie that has you guessing and coming up with theories behind what's really going on until it all unfolds.
This film isn't quite as action packed as the others on this list, but it does have a top notch fight between Donnie yen and female Kung Fu movie icon Kara Hui, aswell as a fight between him and the one armed swordsman himself – Jimmy Wang Yu.
There's also a bit of tribute paid to the one armed swordsman in this film, it's pretty hard to miss 😉
Read my review | Find it Online
Iron Monkey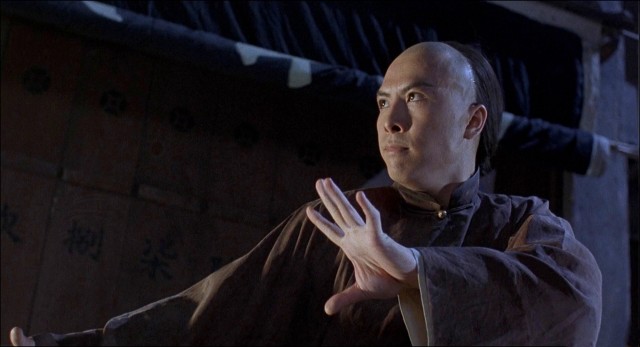 Right after fighting Wong Fei Hung in Once Upon a Time in China 2, Donnie Yen thought he'd play his father in Iron Monkey.
Iron Monkey is another earlier role for Yen and is packed with some more old-skool action whilst telling a top story. This is the best of wire work in movies without being tastelessly overdone – also being combined with Donnie's style is a total win.
This film has long been a fan favorite and well worth the watch as Donnie's character chases down the famous 'Robin Hood' style criminal 'Iron Monkey'. Some great action and just a fun watch.
Read my review | Find it Online
Legend of the Fist: The Return of Chen Zhen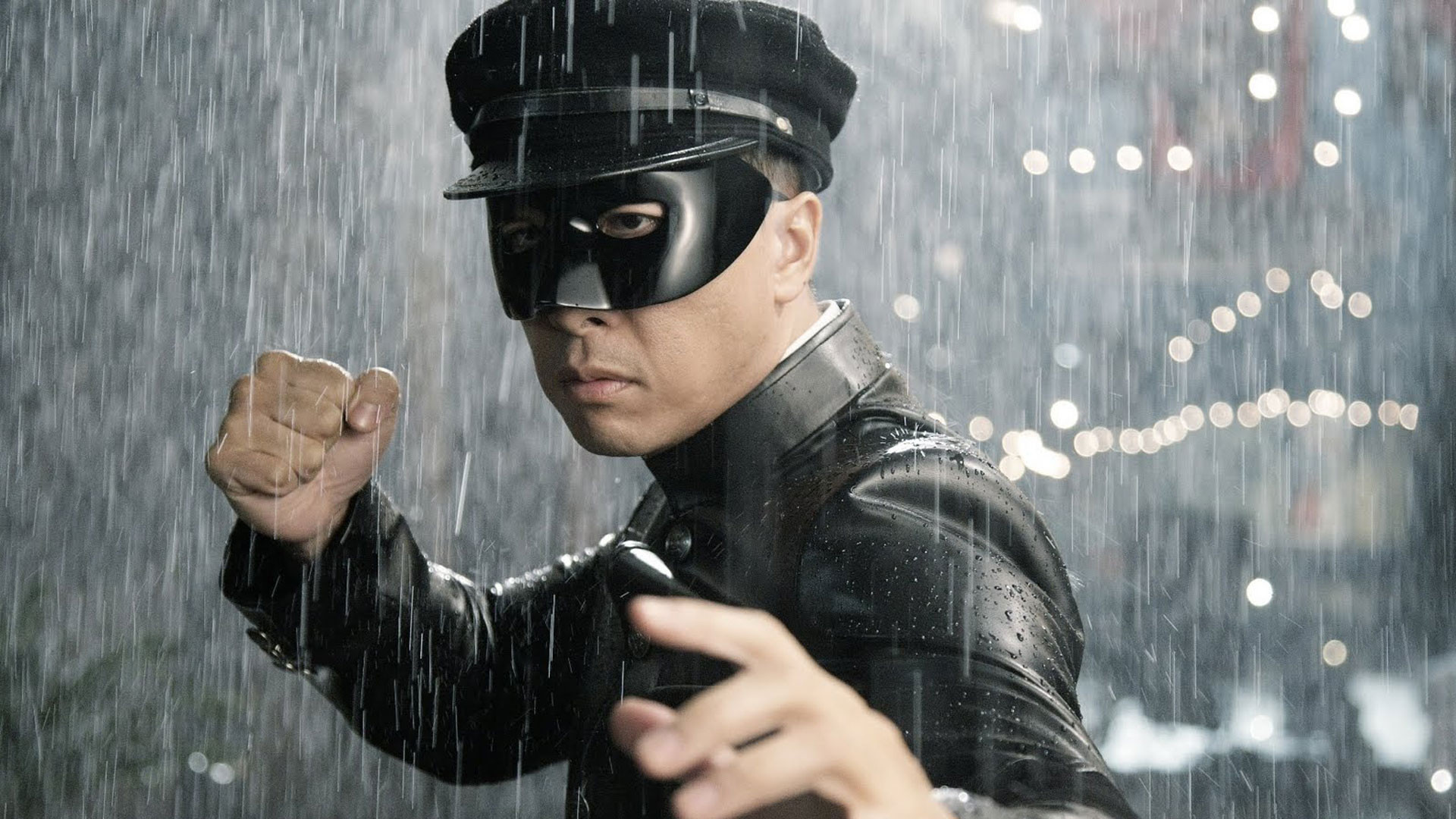 This movie is really cool!
It has a visual style to it and an intense level of action as Donnie Yen pays tribute to his hero – Bruce Lee.
Chen Zhen from Fist of Fury is back, he's not dead, and he's fighting the oppressive Japanese once again.  He becomes 'the masked warrior', dressing up an awful lot like Kato from the Green Hornet and using a tremendously intense fighting style and and acrobatic movement.
The action of this film is pure performance, it hits hard, has a lot of energy and you get a bit of a 'kung fu superhero' feel to the character of Chen Zhen.
This is a unique picking form the Donnie Yen shelf, definitely a fun watch with frequent fights and an interesting plot.
Read my review | Find it Online
Best Overall?
The most popular movie among the fans on our Social Networks is Ip Man, which is no surprise!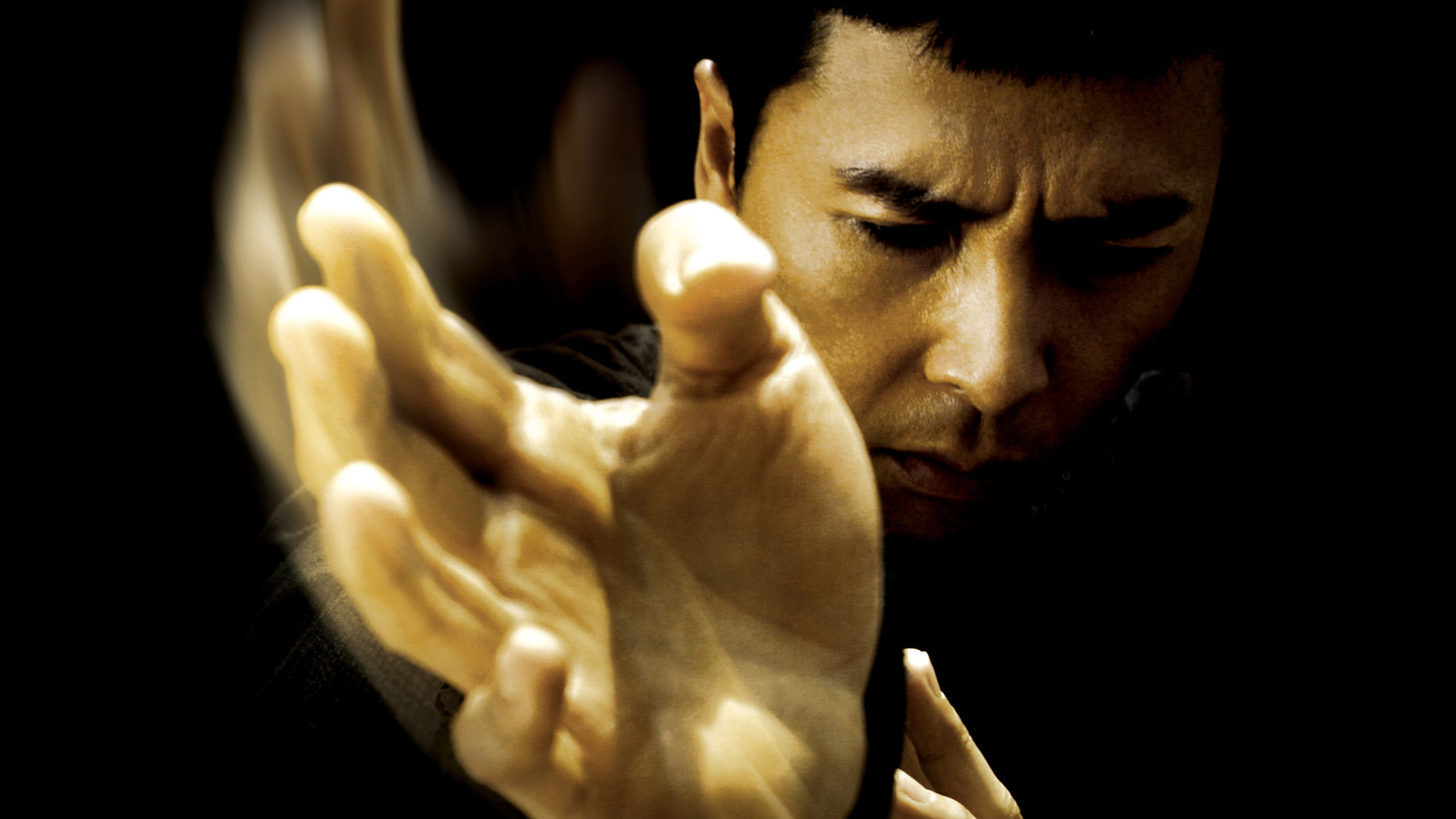 Ip Man made Donnie Yen even more of an international star because of the terrific story it told combined with the action and technical martial arts.  While each of the movies above elevated his status, none had the same effect as Ip Man.
I'm not surprised people voted for this movie more than any other!
The top 5? While Ip Man was first, the second most popular was Killzone (aka SPL), followed by Flash Point, Ip Man 2 and Iron Monkey.
Honorable Mentions
Dragon Tiger Gate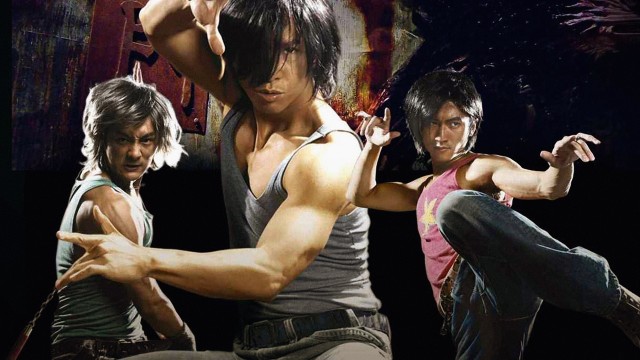 This movie has got some top notch action! Especially from a bunch of guys with long, effeminate hair cuts!
This movie is based off  the Manhua 'Oriental Heroes', and follows two sons, split at infancy, who eventually come together to fight a common enemy who tries to destroy Dragon Tiger Gate – a martial arts center known for creating some of the world's most powerful fighters.
This film is carries a distinct visual style and carries that level of action Donnie Yen is known for.  The movie starts strong and sucks you in with Shawn Yue and Nicholas Tse backing up Yen offering their own high quality level of martial arts fighting.
Read my review | Find it Online
Kung Fu Killer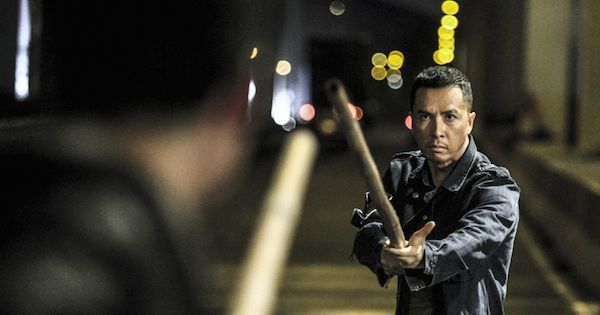 This film start off strong with Donnie's character in prison, eventually aiding in capturing a murderer who is going around killing off kung fu masters of different styles – using their own strength (striking, grappling, weapons etc) against them!
This film is just fantastic and is one of Donnie Yen's best in recent years!
Drunken Tai Chi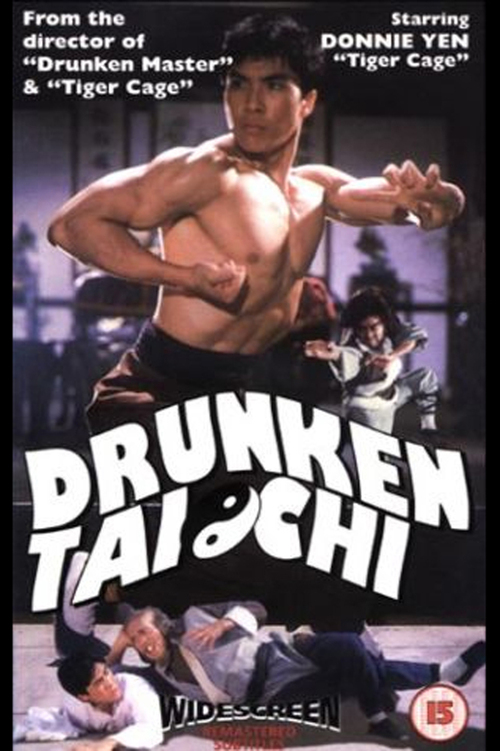 Drunken Tai Chi just missed this list but not by much.
The reason it's an honorable mention is because it was Donnie Yen's very first film. It has got some decent action and some old skool comedy elements.
This may be Donnie's first movie but he still brings his own character to the performance and manages to still be just that bit more physical in his role the most other stars of the time.
I find this movie has a strength in it's comedy though, as Donnie does more visual / plain silly jokes in the film that he just doesn't deliver anymore as he tends a bit more serious in his roles these days. (One contradiction being him taking a 3 meter long piss in Iceman – Austin Powers style).
It's a classic and a good entry into the industry for a guy who is arguably today's top martial arts action star.
What do you think?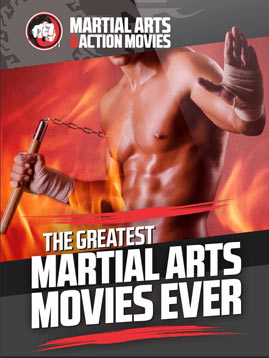 For more movie recommendations check out our premium Martial Arts Movies Guide here (pictured right)
I asked many people what they thought of Yen's movies, but did you get the chance to have your say?
If you feel a movie is missing or have anything to add, please leave a comment below.  Otherwise, any movies on this list you haven't seen – get out there and watch them! They freakin' rock!
Thanks for taking the time to ready this post, have an awesome day!