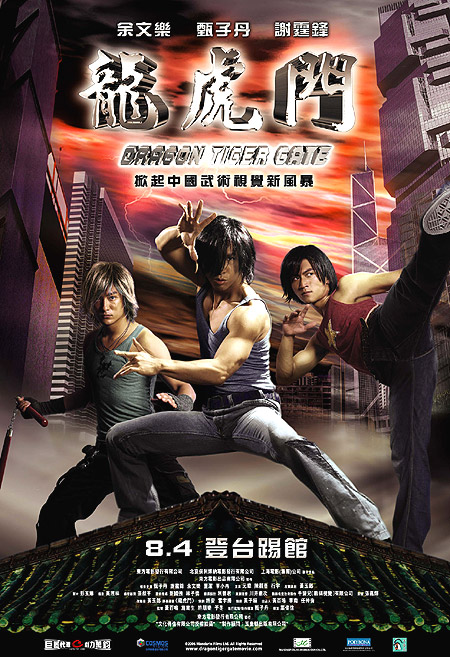 Dragon Tiger Gate is a visually outstanding movie with Donnie Yen from 2006.  The movie is based of the Manhua called Oriental Heroes, created in 1970  by Wong Yuk-long.
Dragon Tiger Gate, in the film, is a martial arts academy founded by two powerful martial artists.  As a way to combat crime and organisations like the triads. Dragon Tiger Gate is known for the high level of martial arts it passes on.
The movie revolves mainly around two sons, Dragon (Donnie Yen) & Tiger (Nicholas Tse), born to different mothers but of the same father – Wong, who is one of the Gate's founders.  While Tiger lives at the gate and has learned martial arts there from a young age, his older brother Dragon was adopted by Triad leader Ma Kun after his mother's death.
From a young age Dragon often protected his younger brother from bullies, and is now one of the most powerful fighters around.  But Tiger wants Dragon to return to the Gate and leave behind the life he has been leading, moving past the moral mistakes of his past.
During a meeting down town Ma Kun and his men are receiving the Luocho Plaque, which symbolizes their authority as second only to the Luocha Cult leader Shibumi.  The Tiger arrives and starts a fight with the gangsters, things get a little out of control and the plaque is taken.  Later that night, Dragon returns and takes back the plaque while Tiger realizes that Dragon is his brother from many years ago.
Things heat up when Ma Kun decides to retire and hands back the Plaque.  Shibumi is outraged and uses one of his subordinates to distract Dragon, who is acting as Ma Kun's bodyguard, while they kill Ma Kun.
All hell breaks lose as Dragon fails in saving Ma Kun.  Shortly after Dragon Tiger Gate is attacked and destroyed.  With both Tiger and Dragon injured, along with another man named Turbo (Shawn Yue). They are taken away to recover and must return to fight Shibumi.
A Very Visual Film.
First thing – everyone has lusciously  long straight hair – these guys must have lived in hair dressing salons as it looks somewhat like an advertisement for some kind of hair product.  But on top of that each character has a very modern and trendy style about them and it seems to be a major part of the movie's look – it's really in your face!
The characters match the surrounding however as the building and general environment is like an Urban Fantasy – CGI rendered buildings and cityscape that looks like pure art.  I think the filmmakers were looking to represent the look of the 'Oriental Heroes' Manhua with this film.  It's almost distracting but doesn't interfere too much with the story telling.
The story is a tiny bit scattered but you can follow it, but I think they're tried to cram a fair bit into one 90 minute film. I feel certain things aren't explained too clearly so you may need to concentrate a little to keep a track of what's happening, and I think that is a definite weak point of Dragon Tiger Gate.
But ultimately I watched it for some Donnie Yen style action, and the action was pretty decent!
The Martial Arts & Action
The fighting and choreography is strong right from the beginning of the film in terms of hard hitting action.  The energy is high and this is how good comic book style martial arts action should look – a bit over the top but still backed up by some great stunts & physical performance.
The action continues to pump through the film as you watch, with quality fights and visual appeal but toward the end I found the fights grew more epic – in a bad way.  The final fight scenes relied far more on visuals and CGI as opposed to martial arts choreography.  The choreography dipped slightly while the special effects were put on Steroids.    This created a decent finale but a little disappointing considering that the action prior to that was really quite balanced.
In terms of action it holds Donnie Yen's stamp of quality.  It's no Ip Man or Kill Zone but it's good fun to watch.
Nothing serious, just some cool martial arts action backed up by CGI.
On Blu Ray –
On DVD –