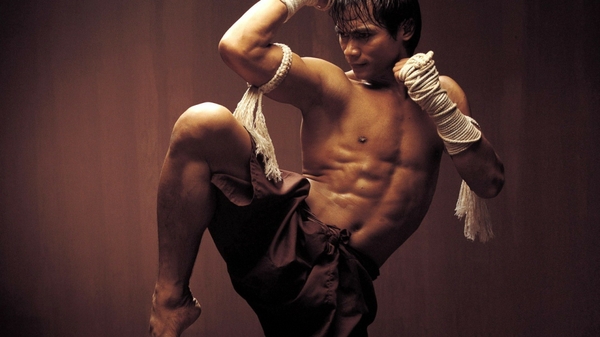 Do I really need to introduce this post?  You know who Tony Jaa is, right?
He's one of the most popular martial arts movie stars of all time, having starred in some of the most popular films ever made.
He hasn't made a hell of a lot of films but I recommend them to all martial arts fans including the films he has played smaller roles in. So let's get to it…
Here are Tony Jaa's all time best martial arts movies!
Ong Bak
This is the film that turned a quite unknown Tony Jaa into the most sought after martial arts actor in the world.  It seemed that everyone was talking and waiting for his next film after the release of Ong Bak.
Jaa plays Ting, a villager trained in Muay Thai who must recover the stolen head of his village's buddha statue – or his village with face drought and famine.  It's an interesting setup contrasting the differences in village life and city life as this bumbling country boy heads into Bangkok to track down the thief.
This film acts almost like a showreel for Tony Jaa as we are slowly introduced to his fighting skills, free running and acrobatic abilities throughout the film.  In an era of wire fu and gravity defying fights seen in films like Crouching Tiger Hidden Dragon, Tony Jaa fulfilled the desire for real stunts. Promoting the line "No CGI, No Wires, all real human stunts".
This is without a doubt Tony's most iconic film and an absolute must see for fans of martial arts film.
---
The Protector / Tom Yum Goong
After the huge success of Ong Bak, Tony Jaa's next release would take things to the next level, showcasing more of his martial arts prowess.
The Thai Title Tom Yum Goong was retitled to 'The Protector' in the English speaking world. It has a similar set up to Ong Bak: a young village fighter ventures into a bigger city to recover some stolen valuables.  In this case, Jaa plays Kham who goes to Sydney, Australia to recover his stolen Elephants.
The film kicks the action up a notch with more diverse skillsets but also some more established names (and many made popular after the release of this film).  People like Nathan Jones, Lateef Crowder, Jon Foo and Johnny Nguyen all show up as opponents for Tony Jaa's character. Where Ong Bak had Jaa beating opponents by far his inferior, this film brings him more evenly matched opponents and progresses his onscreen action quite naturally from Ong Bak.
In my opinion, this film would be number 2 on this list, sitting just under the iconic Ong Bak.
---
Ong Bak 2
The sequel/prequel to the iconic Ong Bak was a change of scenery for Jaa as he plays a young warrior taken in by the man who destroyed his village.
Tony steps into this role which takes place hundreds of years before original film and has a much deeper story with better character development.  However, the action slides in under the level of the two previously mentioned films – but it's still fantastic and has the 'Tony Jaa' level of intensity and quality.
So this was the first film of Jaa's which seemed less like a show reel and more like an actual story being told through film.  Well worth checking out if you love action backed up by decent story telling.
---
SPL / Killzone 2
This is one of Jaa's most recent films but without a doubt one of his best.  It is a must see film packed with high intensity action and excellent drama.
This film utilizes the talent's of some top Hong Kong top names like Jin Zhang and Jacky Wu Jing, and is a sequel to the excellent SPL Killzone starring Donnie Yen and Sammo Hung. The hard hitting and sharp feel the fights that these films carry is intensified by Jaa's acting and physical performance.
Although this isn't considered Jaa's top film, I do think the fights in this film are his most intense and serious of his career.  Do not overlook this film!
---
Skin Trade
This American made film stars not only Tony Jaa but big names like Dolph Lundgren and Michael Jai White.
The film follows Jaa and Lundgren as they try to take down a human trafficking group who have affected the lives of their loved ones. This film has that 'tried and true' generic action movie feel as the plot unfolds but the physical talents of our main cast elevate the film to the level of an entertaining martial arts film.
One reason I love to watch this film is…. SPOILERS: The fight between  Micheal Jai White and Tony Jaa.  Two of the biggest names in Martial Arts film today have a nice showdown in a stylistic big guy vs little guy battle.
---
The Protector 2 / Tom Yum Goong 2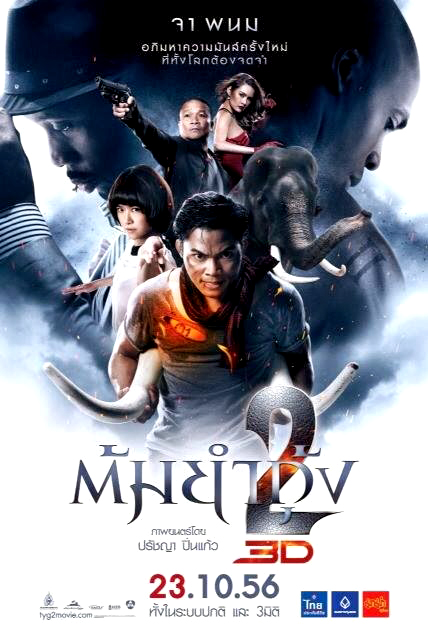 This film is where Jaa's film quality was really at it's lowest before being in Skin Trade & SPL Killzone 2 (a massive jump back to the glory days of Jaa!).
The "No wires, no CGI – all real stunts" theme of Jaa's early films was removed for this movie as wires and CGI were added in to help eleveate the action.
This ends up being a dip in quality making this and Ong Bak 3 the least fan favourite films in Jaa's line up.  Yet they're still solid films with terrific action!
---
Ong bak 3
Of Tony Jaa's leading roles, many would consider this his weakest film – yet it's still worth watching.
This film isn't Jaa's very best but is still an entertaining film with some cool action and some fantasy/magical elements mixed in.
It does tie the trilogy together and is one of Tony Jaa's most unique films.  Check it out if you're looking to be 100% complete with your Tony Jaa watch list.
---
Top supporting roles
There's a few smaller roles Tony Jaa has taken in his career which show off some of his skills nicely.  So to make this list a bit more of a complete resource I've listed these films below.
Fast & Furious 7
The movie about cars, Vin Diesel being invincible, more cars, the Rock, FAMILY, Jason Statham and more invincible Vin Diesel also features our man Tony Jaa. This film was also a touching send off to lead actor Paul Walker after his sudden death.
Jaa plays an interesting villain in this film who shows up and has some very slick fight sequences against late actor and martial artist Paul Walker.
The overall film has some good action but isn't really a 'martial arts' film, but Tony Jaa's presence adds that martial arts style of action into the mix.
---
xXx: The Return of Xander Cage
Another film which has an extremely similar feel to Fast & Furious (Rag Tag Team, Vin Diesel being unrealistically the worshipped, etc).
Tony Jaa teams up with Donnie Yen in this one along with a bleach blond haircut as he shows off a few moves.  His role in this film is quite small though and Donnie Yen seems to be the martial artist to watch in this one.  But Tony has some nice moves thrown into the mix.
---
Cameos
Finally, if you're really looking to scrape as much Tony Jaa action together as possible, here are a few cameos you can check out!
The Bodyguard 1 & 2
Tony Jaa shows up in both of these films almost randomly, springing into action to fight off some bad guys.
It's a bit of comic relief and worth checking out, so I've embedded the clips below:
Bodyguard 1 Tony Jaa clip
Disclaimer: By watching this video you consent to the use of YouTube's Cookies.

Bodyguard 2 Tony Jaa Clip
Disclaimer: By watching this video you consent to the use of YouTube's Cookies.

---
Never Back Down 3
There's no fight scenes with Jaa in this film, but he plays himself in a hilarious comic relief role, mistaking the main character Casey (Michael Jai White), with Quinton Rampage Jackson.
If Jaa wanted to, he could easily star in comedies as he is a hilarious guy. Unfortunately I couldn't find a clip for this one.
---
More to come!
In recent years Tony Jaa's career has hit a bit of a resurgence. Tony is still considered one of the greatest martial arts actors of all time and is definitely Thailand's number one action star. So needless to say, Tony Jaa won't be disappearing!
So in the future expect to see more of Jaa and this list updated. If you like this post please share it on Facebook or Twitter with your friends or other Tony Jaa fans.
Thanks for reading!