Kill Zone (or SPL – Sha Po Lang) is the action packed martial arts film that help boost Donnie Yen's career to a whole new level (before going even further with Ip Man), and also made Wu Jing a sought after martial arts actor.
The movie centers around a group of police men trying their hardest to bring down a triad boss named Wong Po (played by Sammo Hung).  Many years earlier a witness was under police protection with Inspector Chan (Simon Yam) before he was to testify and put Wong Po behind bars – However a horrific car crash and assassination orchestrated by his Wong Po's main man Jack (Jacky Wu Jing) killed the witness and all0wed Wong Po to walk free.
Inspector Chan, surviving the crash with a shard of glass stabbed into the back of his head, lives on with malignant tumor, still trying to take down Wong Po.  Some 4 years later Chan is ready to retire, he has adopted the daughter of the witness killed years earlier, and is handing over command of his unit to an Inspector Ma Kwun (Donnie Yen).
Ma Kwun arrives the day before he is to take over the team and learns of the corrupt methods they are desperately using to try and get Wong Po behind bars.  Resistant at first, Ma Kwun eventually joins the cause and helps his team try to crack down and convict Wong Po.
The Dark Feel of the Film
This film has a very dark feel to it in the sense that there's no fairy tales.  The triad group is corrupt, but so are the cops.  This movie does a good job of showing realistic characters set in this metro environment; the way good cops and start to fight dirty when all other avenues are exhausted.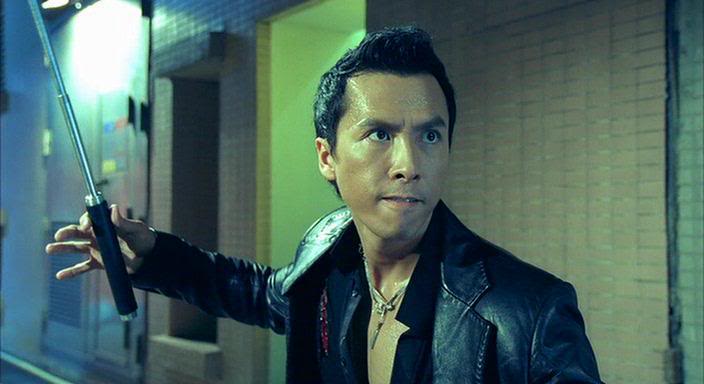 This is clearly demonstrated when the main group of cops plan to switch a bullet in the properties room and delete a section of tape so it can convincingly be used as evidence to lock away Wong Po.
The dark music and environment this movie is set in has a 'deep city' feel to it, but things seem to take off on a whole new level of dark realism when 3 members of the main group are murdered by Jack (Wu Jing) – a lethal knife fighting assassin hired by Wong Po.
Before their deaths, each of the characters reveals their feelings about their family and even their failures – creating a sense of vulnerability that starts to connect you to the characters and their bond right before being ruthlessly murdered.    This really highlights how savage a murder can be when you feel that you know the person (or character) who is being killed.
The Thrilling Climax
This movie does an excellent job in teasing you with flashes of Ma Kwun's skill.
But when Jack returns and starts killing his team members, you get this true sense of a massively powerful force, that seems unbeatable – with Jack being an almost freakishly lethal weapon with his fighting ability.
When Inspector Chan visits Wong Po to give him back a suitcase of money stolen by his men, it's up to Donnie yen's character Ma Kwun take care of business – marching into Wong Po's building and fightng off Jack before taking on the big man himself.
The Action & Martial Arts
This movie has some of the absolute very best fight scenes I've seen in a Martial Arts film – period.  The batton to knife fight between Donnie Yen and Wu Jing is so savage and fast, as well as technical and exciting that it's nearing the top of my list for one of the best fight scenes of all time.  It's also incredibly built up as you get to see two of the movie's heavy weight fighters really go at it.
The fights all have  hard edged feel to them, and Donnie Yen's use of MMA techniques and groundwork against Sammo Hung is absolutely brilliant.There's not much I can say without sounding like I'm over praising the fights, so if you're a fan of good hard fight scenes, shot at a inhumanely fast pace this movie is one you must see, if you haven't make it a priority!
The first half of the movie is mostly story but the last 20 minutes or so of the film is absolutely thrilling.  There's no deep meaning really, just a dark atmosphere and build up to an awesome and explosive finale (and a little twist of an ending).
I could watch this movie over and over.  Fantastic.
On Blu Ray –
On DVD –