The sequel to Armour of God has Jackie Chan showing off some more comedy and action at the standard we've all come to expect.
I find it amusing that this movie is also titled Armour of God 2, while Armour of God is Titled Operation Condor 2 in certain countries!  A nice way to confuse some fans who are less informed of Jackie's filmography.
The movie is about Asian Hawk, or 'Jackie' (as he's referred to in the English dub), being hired to find some Nazi Gold that's been hidden since World War 2.  Accompanied by two women, he sets off on his mission but ends up being chased by a team of mercenaries who also want the gold.
Naturally there's many (geniusely put together) fights between Jackie and the Mercenaries.
Along the way they meet a third woman who happens to be walking the road as they drive past, they pull over and she then joins them on their adventure.
So in a nutshell – Jackie teams up with 3 attractive women as they race and fight with some mercenaries to find a fortune in gold that's been hidden for decades.
Pure Jackie Chan Action/Adventure
This movie is a little 'Indiana Jones' / Jackie Chan.
There's plenty of stunts and fight scenes (however quick) but the sense of adventure and mystery really makes this movie.  There's a strange key Jackie is given to unlock the gold, yet he has no clue behind the combination required to open it (which all unfolds toward the end of the film).
The location of the base that contains the gold is on a map yet it's buried beneath the desert and is accidentally discovered by Jackie and the women whilst running from some men.  The story has a pretty fun feel and pace to it.
As usual Jackie Chan uses a combination of physical and spoken comedy to keep things light hearted.
One scene which I found funny in particular was when he rips the clothes off a young girl to distract a criminal long enough to disarm and defeat him – only to later have the same trick suggested by this girl on another, but instead both Jackie and the armed man have a good look at the other girl, slowing Jackie's response time making the whole tactic useless (you might have to see it to appreciate it).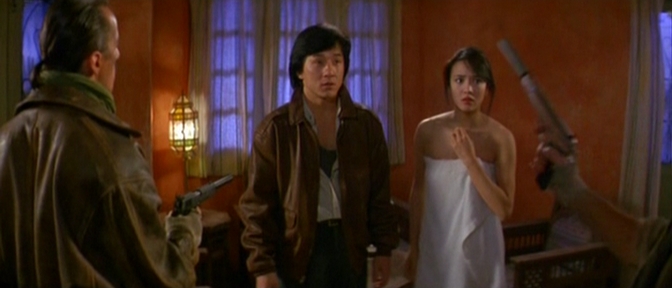 The Action
Jackie use of the environment around him is fantastic in this movie, and I found the fights to be among the best of his to watch.
My only complaint about his fights is they seem much shorter and the film doesn't leave you fully satisfied.  I definitely wanted more fighting.
Either way the action is quality.  One constant in this movie is the 'race for the gun'.  There's always an armed villain pointing a gun at Jackie and the women, to which Jackie manages to knock the gun out of their hand.  He then uses whatever he can to stop them from getting the gun so he can get it himself.  These little 'gun races' are frantic but precise and so stunning to see – very impressive.
Ultimately you'll see Jackie Chan doing what he does best – stunts, fights and physical comedy.  The same stuff done well but in a different movie.
Worth a Watch?
Call me a softy for Jackie Chan movies but they nearly all seem to be worth a watch.  Although I didn't really see anything new, I did see a lot of exciting scenes done extremely well.  I'll be watching this movie again for sure!
On Blu Ray –
Region A (US & Canada)
Operation Condor on Blu-ray
On DVD –
Region 1 (US & Canada)
Operation Condor on DVD
Region 2 (UK, Europe, etc)
Operation Condor on DVD
Region 4 (Australia, New Zealand, etc)
More info on DVD & Blu Ray regions here