The critically acclaimed movie Crouching Tiger Hidden Dragon is a definite martial arts classic – the movie that leaves the impression that great martial artists can fly, skim on water and have sword fights on bamboo tree branches!  Just kidding, I really enjoyed watching this movie again!
Crouching Tiger Hidden Dragon is basically a martial arts movie based around the theme of love.  You've got Master Li Mu Bai (Chow Yun Fat) and Yu Shu Lien (Michelle Yeoh) – two warriors who have deep feelings for each other, they both know it but each keep this to themselves.  Li Mu Bai is wanting to change his life and find a simpler path (possibly to settle down with Yu Shu Lien), and his first step in making this happen is to give his sword 'The Green Destiny' to a friend – Sir Te.
Once Yu Shu Lien arrives at Sir Te's to deliver the sword, she meets a young teenage girl named Jen Yu (Zhang Ziyi), who is soon to be married.  Jen Yu, as it turns out working with Jade Fox – a notorious thief and murderer, who is being pursued by a police officer.
The Green Destiny sword is somewhat revered and has great history.  When the sword is stolen, Li Mu Bai & Yu Shu Lien try to get it back.
Why the name?  Crouching Tiger Hidden Dragon…
'Crouching Tiger Hidden Dragon' is a Chinese quote that relates to someone hiding their strength.  A theme that is quite heavily used throughout the movie.
Primarily, you've got Jen Yu who's the seemingly innocent teenage girl who has a superior martial arts talent, and has even surpassed her master. Along with being a thief and the protege of Jade Fox, it seems that not many know of her strength, as she hides it quite well.
Jen Yu also hides information from Jade Fox, after realising she could read certain parts of Wudang Manual (that Jade Fox stole years earlier) that she couldn't.  While her skill exceeded that of her masters, she kept this from her until the fight with Li Mu Bai.
Along with that you have Li Mu Bai and Yu Shu Lien, two people who have great external strength and martial arts prowess but hide their love for each other.  But this does come out throughout the film.
There's hidden skill and love amongst a lot of the main characters.
The Theme of Love
It's a big part of this film, you have two different love stories happening at once.  The strained love of Li Mu Bai and Yu Shu Lien and the love between Jen Yu and the Bandit Luo Xiao Hu (aka Dark Cloud) .
Towards the end of the film you notice the regret of Li Mu Bai, as he declares that he has not lead a good life, and that he should have announced his love much earlier than he did (last moments before he dies).  It seems that both Li Mu Bai and Yu Shu Lien are trying to get both Jen Yu and Luo Xiao Hu together, as a way to help them experience what they've deprived themselves of for the majority of their lives.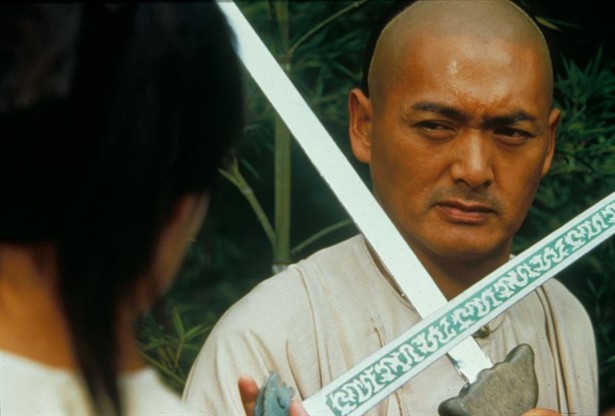 What's also interesting is the story in which both Jen Yu and Luo Xiao Hu meet out in the desert – I think Jen Yu has a little stockholms syndrome!  She is chasing after a comb that Luo Xiao Hu stole, and never ends up getting back, and when she does she asks him to keep it as they must part ways temporarily.
The Martial Arts
Being that the story uses the Green Destiny Sword as a major tool for telling the story, there are a lot of sword fights in this film, and as I mentioned at the start of this review – a hell of a lot of wire work!  This is very similar to traditional Chinese theatre and is therefore intended to be an artistic expression of movement.  While personally think it's a little overdone for my personal tastes, I see the relevance in it's use.
Michelle Yeoh does a good job showing off many different skills with weapons in her fight scene with Zhang Ziyi, going through some 5 or more weapons against the Green Destiny Sword.
The fights have a decent pace to them, and although Zhang Ziyi had no previous martial arts training, her dancing abilities have helped her deliver a pretty good performance.
Would I recommend it?
Overall, I'd say the fights are decent, not bad, but not the best you've seen – pretty standard for a martial arts flick.  The strength of this movie lies in the story telling, which is why I do think it's a great movie.  But as a Martial Arts movie fan, it's definitely not nearing the top of my list, but worth a watch:
Find it on Blu-Ray
On DVD –