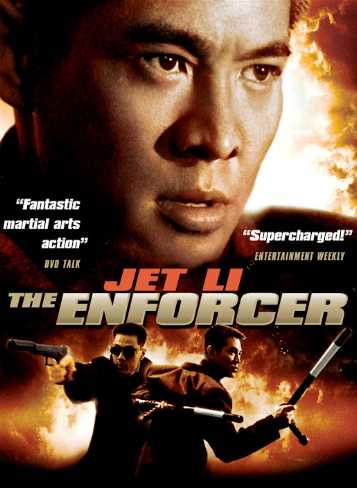 Here's some more of Jet Li's 90's work only this time a solid and serious tone is present – as opposed to this being another light hearted kung fu movie.  The movie is called The Enforcer or as is otherwise known – My Father is a Hero.
Jet Li's character Kung Wei is a police officer who has to go undercover into a crime organisation in Hong Kong.  His job has been stressful on his family, especially since his son is young and his wife is very sick.
When Kung leaves for Hong Kong on his mission, he stops to say goodbye to his son, and to tell him to look after his mother (Kung's wife).  He infiltrates the gang and becomes a key member whilst his family deals with their own issues ( and of course his wife getting sicker and sicker).  When Kung's wife finally dies, Kung's son, Ku, then goes to find his father with the help of a Hong Kong policewoman.
Once there, the head of gang that Kung has infiltrated manages to get his hands on Ku, and the situation becomes very stressed as Kung must try to take down this gang while keeping his son's best interests in mind.
Not to give things away, but this of course leads to an awesome Kung fu finale as Jet Li's character Kung Wei must fight the gang and of course, their boss Po.
Serious Jet Li = Good!
I'm a little bit over the less serious roles Jet Li played in the 90's, so seeing this effort with a strictly serious tone makes it a lot of interesting to watch.
Just as interesting is the fact that Kung's son Ku is also a highly trained child Wushu champion, so we get to see some very interesting situations between the two as they have that understanding between them to tackle situations as a team.
The drama behind Kung's family and even what his son must go through, watching people die and being abused by the gang gives this movie a sense of urgency as you simply want to see both father and son reunite properly and get on with life – you can feel for the characters in this film.  But it's not exactly Oscar worthy but who cares? It's an action movie!
Even the overall look of the movie is dim and dark and builds up to some serious action!
The Action & Martial Arts
Throughout the movie you'll see some nice action, but even if it didn't exist it'd be worth it just to watch the finale!
Jet Li starts off this epic fight at the end of the film with some vicious and impossibly paced action, smashing up his opponents with Tomfa batons before eventually changing things up and using some of his other talents.
This final fight scene is a solid chunk of time and is among some of the more ferocious work I've seen jet Li do, without being as gravity defying as some of the wu xia films of his past – opting for more reality with modest use of wire work – instead of blatantly obvious.
If you want some of Jet's best old skool action – this movie is a must.  I give it the thumbs up!
On DVD –
Region 1 (US & Canada)
The Enforcer
Region 2 (UK, Europe, etc)
The Enforcer [DVD]