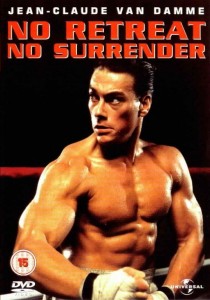 Being the new kid in town can be tough, but it'd be even tougher if you were dealing with bullies who were all karate black belts who fought successfully in competition!  This is the problem of Jason Stillwell, played by Kurt McKinney.
The movie starts with Jason attending one of his father's karate classes.  Afterwards, some men enter and challenge Jason's father so they can take over his school. This group of organised criminals proves to be unmatched to Jason's father until a Russian fighter in their group, Ivan (played by Jean-Claude Van Damme), steps in and really messes him up, breaking his leg.
Jason's family relocates to Seattle to avoid fighting these criminals.  Jason sets up his private training area, with Wing Chun wooden dummy and posters of Bruce Lee everywhere.  He very quickly meets another kid by the name of RJ, who takes Jason to visit Bruce Lee's grave.
Across the street however is a rather overweight young chap who has it in for RJ, and starts to bully both him and Jason.  Before long RJ ends up in a fight and Jason steps in and stops it using his Karate.
Jason inspects a local martial arts club with RJ, but the young fat bully spreads lies about Jason and the school (absent of their head instructor) starts to bully Jason, making his life a living hell.
After the trouble from the bullies, his father and his downtrodden mood, Jason turns to Bruce Lee's gravestone for help and shortly after the spirit of Bruce Lee appears and trains Jason to become the martial artist he's always wanted to be.
Meanwhile the Van Damme gang comes into town, pushing people around…
The Struggling Teenager, Martial Artist & Bruce Lee fanatic..
Jason is portrayed as one of the most friendliest kids you'll ever meet – but that doesn't stop his problems from interfering with his life.
With his bullying problems and angry father constantly telling him to stop fighting (despite being forced to in most situations), things get tough as even his relationship with his girlfriend becomes difficult due to his bullies.
This whole scenario is actually pretty sad to watch and it seems that the only person Jason can relate to is Bruce Lee and his philosophy.  While the whole 'ghost of Bruce Lee' things is a bit cheesy, it kinda works in this movie as he passes on his knowledge to Jason – giving him the tools he needs to overcome his problems.
They've even hired Tai Chung Kim, who doubled Bruce Lee in the Game of Death movies to play Bruce – I'm not sure if that's a good or bad thing!
They show a lot of very Hong Kong style exercises mixed in with some of Bruce's movements..
The movie plays out like your typical Hong Kong Kung Fu movie with an American Twist – the young martial artist runs into trouble with a stronger group, trains under a mysterious new master and comes back more skilled then ever.
In this case they picked probably the most famous martial artist of the time, Bruce Lee, as the master.  So naturally it got a bit of attention.
I had to laugh at the "NO RETREAT! NO SURRENDER!!" line being thrown about in this film! 
Some early Van Damme
This also happens to be Jean-Claude Van Damme's third appearance in a film, but probably the first 'notable' appearance.
He plays the bad guy and does a pretty nice job of it!  He carries a mean look and springs into action making his skills very apparent to the audience.
Unfortunately he speaks very little is merely there for the spectacle, but it all seemed to work well for him as his next movie role was Bloodsport – and we all know how successful that movie was!
The production was a bit cheap and nasty compared to other movies of it's time, but it holds a certain value within it's low budget that's hard to capture.
The Action & Martial Arts
This movie showcases some nice martial arts both from Kurt McKinney and Van Damme.
Kurt McKinney's movements are pretty nice, he uses a very down to Earth style with a few fancy kicks thrown into the mix.  Since he played a teenager with only a couple of years training, his style needed to be very 'common'.
Van Damme's moves are awesome!  He shows off an arsenal of fancy flying kicks and moves that set his character up as the powerful and 'uber-skilled' fighter he was meant to portray.
Some of the fights are sped up a little and it's not done quite as well as the Hong Kong films, but it all flows fairly well and sits as a part of Martial Arts movie history – showing another chapter in the evolution of fighting action.
The Verdict?
Classic!  It's cheesy and put together a little cheaply but it's an absolute classic – check it out!