The Sensei is a serious film packed with heart and a message about prejudice.  This is perhaps one of the most emotional movies I've reviewed as it touches on some serious issues without holding back.
We're introduced to a young man named McClain who fights off some attackers during a mugging.  Stunned by his physical prowess, the victim asks him to tell home about his Sensei,  so we're then taken back to 1985, when he was a teenager in high school.
McClain is a young homosexual boy, and he has just publicly come out of the closet.  In a time when AIDS is fresh, and there's mass fear around the disease and homosexuality in general, McClain faces bullying both from the kids around him, but also oppression at his local Church as the local Pastor deliberately demonizes homosexual people, calling AIDS  'God's punishment' for being Gay.
Being a young guy, McClain feels terrible, suicidal and basically less than human.
But one day at school a group of angry young athletic guys take out their frustrations on McClain, beating the absolute crap out of him leaving him almost dead, and in hospital in a serious condition.  He presses charges but has months before the court hearing, and must eventually return to school alongside the same boys who hurt him.
That's when a woman named Karen (Diana Lee Inosanto) with proficient martial arts talent returns to town to face her own demons.  When McClains mother introduces the two (in hospital), Karen is almost begged to teach her son martial arts, after being turned away from the only other club in town.  Karen agrees, and so McClain trains hard and learns a mixture of styles before returning to school and facing the prejudice again, this time with his training to protect him.
Diana Lee Inosanto nailed this one!
Diana Lee Inosanto didn't just star in this film, but wrote, produced and directed it – and the results couldn't have been better!
Her character has her own issues which are revealed slowly in the film, but the brutal confrontations and tear jerking events of the film show homophobia and oppressive prejudice as the vile  and evil thing it is.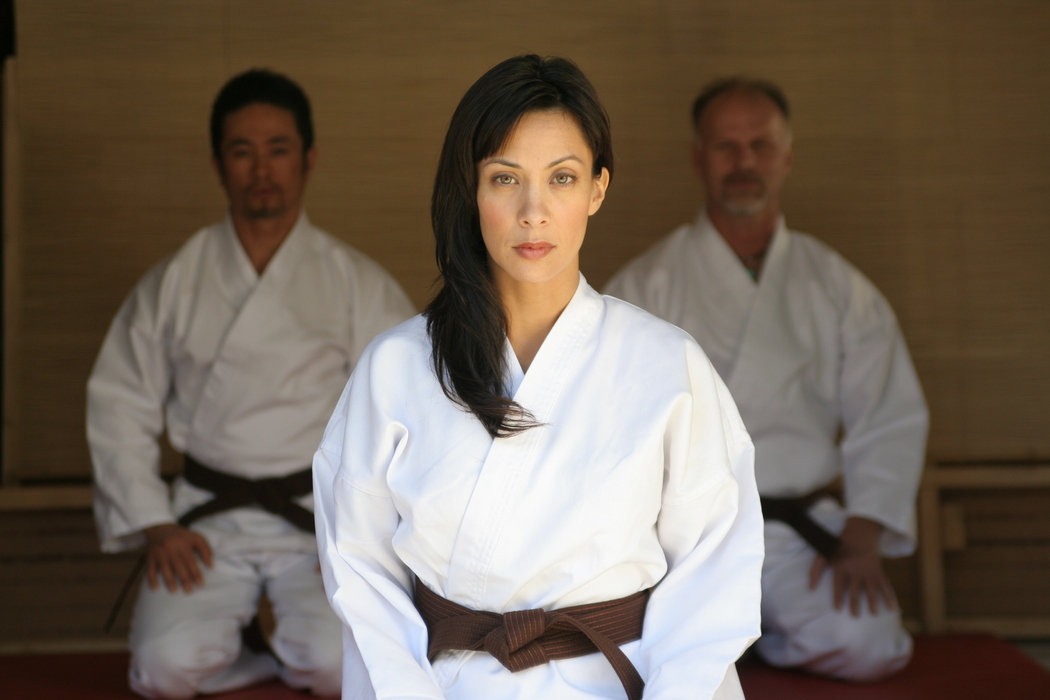 'The Sensei' shows us exactly how much we're all the same regardless of sexual preference, race, gender and even health.  Moreso, this movie shows how viciously cruel the world can be toward people with faced with such oppressors, and the almost impossibly difficulties they face to simply have a happy life.
The fact that the 'The Sensei' is a woman is touched on straight away with McClain being asked "Who is he?" about his intructor.  He simply replies "a she actually" – right after he, a homosexual male, steps in and saves a man and his wife from being raped.  Considering the fact that most homosexual males are seen as effeminate, I think the statement on prejudice is pretty damn clear and backed up by some excellent storytelling.
But this movie doesn't stick to the one theme, but also touches on family and acceptance in general.  We see how those rejected by everyone they've known find family in friendship, as well as overcoming self hatred.  This is one movie I tihnk everyone needs to see as an education on how stupid these old fashion prejudices can be.
The Action & Martial Arts?
It's not bad, but this is not really an 'action' movie – but definitely a martial arts movie.  The fights show off some good technique, but are a little more based in reality – right down to the gritty nature of real world self defense.
The 'martial artiness' of this film is quite clearly seen in the value of being able to train not only to protect yourself but to be at peace, confident and accepting of yourself.  (Real) Martial Artists apply their training and teaching to real life and it becomes something in their life that brings value to themselves and those around them.  This movie uses McClain as an excellent example but also demonstrates how some martial artists can be 'stuck in their ways' also, rejecting people for stupid reasons.
Overall there's not a lot of fights, but some deep themes surround the martial arts but it is second to the homosexuality / AIDS phobia presented in the film.  Martial Arts aside, it's a fantastic movie – I cannot recommend it more!
On DVD –
Region 1 (US & Canada)
The Sensei