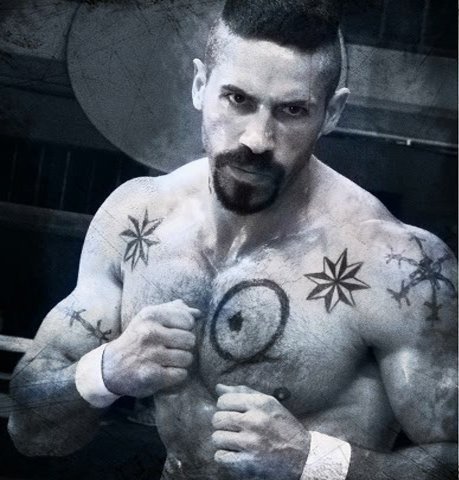 Scott Adkins is a man with a cult following in the martial arts film genre, but his character Boyka seems to have a following even larger than life!
Fans were waiting with bated breath when they heard the most recent film 'Boyka: Undisputed' was in the works and when it was released we finally got to see Boyka in action once again. He's cemented himself as one of the most iconic martial arts characters of all time.
It's crazy though, he wasn't even in the first film and was a villain in the second film!  So he's evolved from a background role into an iconic leading character!
So for those who haven't experienced all of the Undisputed films,  I wanted to cover them and give some perspective on the film franchise as the lead character of George Chambers started off and passed the torch to Boyka over the years.
Let's start back at the beginning!
Undisputed
Here's the thing, this film is actually not too bad, it's just a non-event compared to the other 3 films.
Undisputed follows Ving Rhames' character George Chambers, a character based loosely on Mike Tyson.  He's the world boxing champion who seems unbeatable. But Chambers also has some personal life issues outside the ring which ends up landing him in prison. Once there, controversy arises as people start to speculate who is the better fighter:  the "outside champ" Chambers, or the prison Champ Hutchens – played by Wesley Snipes.
Naturally, a fight is organised between the two to see who the real world champion is.
This film doesn't have the same color and energy of the following films and the fights aren't as high flying since they're confined to the rules of boxing. It's a decent film but the weakest of the series.  Ultimately it's a film about finding out who the true champion of the world is by pitting two fighters against one another who normally would be unable to fight.
There's also a bit of an underlying set of themes here also, as the character of each man is tested.  The brash, aggressive and self centered Chambers is compared to the more peaceful and quieter champion of Hutchins.
Watch this film if you're a boxing enthusiast or if you want to complete your 'Undisputed' Experience. Although it's not necessary to the overall story of Boyka.
Undisputed 2: Last Man Standing
This is where the theme of the films changes from Boxing to Mixed Martial Arts, making use of Martial artists in the lead like Michael Jai White and Scott Adkins.
This film also introduces Boyka, as he is the villain.
This film takes place years after the first with Chambers shooting a commercial in Russia when he is wrongly accused of having drugs in his possession and thrown into prison. That's when the prison owner, Gaga, seeks to make money by having Chambers fight Boyka, the prison 'no rules' champion.
We get a film which has a different feel despite the fact that the same theme is present as the first: is the 'outside' champ the best or the 'inside champ'?  However, this time another layer is added as we also get the Boxing vs Mixed Martial Arts theme explored between both fighters.
This film definitely has a message rooted deep in modern martial arts as Chambers must adapt and expand his style to become a Mixed Martial Artist, not just a boxer if he ever wants regain his freedom.
The action of the film is fantastic and sky-rocketed the career of Michael Jai White and Scott Adkins. It also put Boyka into the spotlight as the unique and very interesting character he is.
I recommend watching this film as it is the 'real beginning' of the film franchise.
Grab Undisputed 2 on DVD
Undisputed 3: Redemption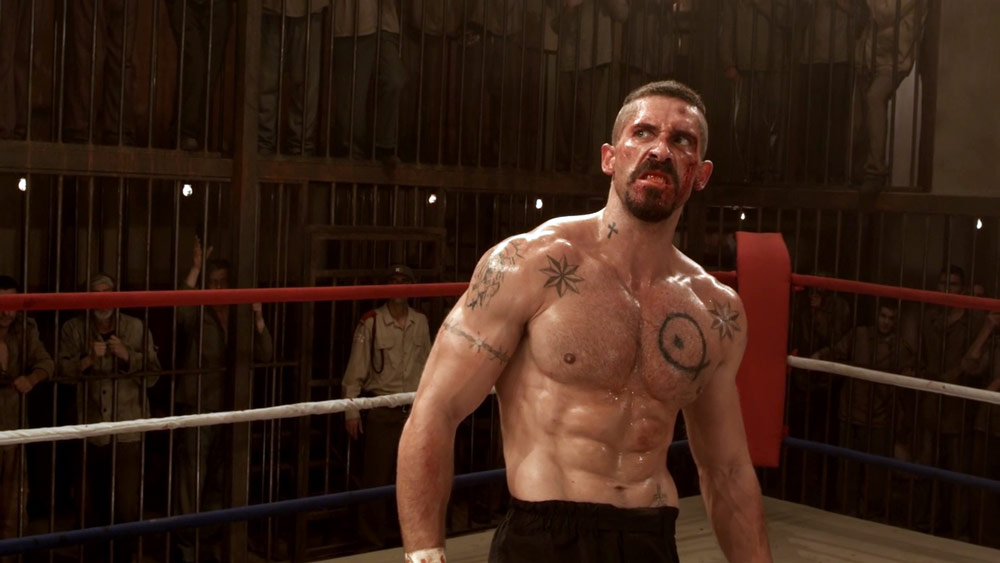 This  film has the strongest action in the entire Undisputed franchise.
Boyka is back as the lead but this time he's the good guy looking to improve himself and step away from the villainous behavior he displayed in the Undisputed 2.
This time Boyka, still in prison, wants to free himself and prove to the world he was some worth and value.  He refers to himself as "the most complete fighter in the world", and that fighting is the only skill or talent he has.  That's when he enters a prison fighting tournament against the world's best prison fight champions with one prize: the winner gains his freedom.
In this film we see more of a style vs style set up in some areas, with the most successful fights having a better mix of skill sets (very MMA themed). The film shows us how much martial arts and fighting have evolved as all styles are now able to step up and compete in an arena with a wider set of rules.
While these martial arts themes are touched on, they're not as strong as the previous film as we focus more on the main characters and their outlook on the situation and how they overcome it. They adapt their slave labor into a training regime, work together instead of against one another and improve at an incredible pace. But most of all two bitter rivals become close friends in their quest for freedom.
In my opinion this film is the best in the franchise due to the action.
With Scott Adkins bringing his usual high level of martial arts acrobatics to the screen, the fights are taken to a new level as guys like Lateef Crowder and Marko Zaror bring a their own high level flavour of action to the fights, creating an incredibly diverse mix of martial arts which is unlike any combination present in any other martial arts film.
Watch this film for some of the best martial arts action ever recorded! 
Boyka: Undisputed
This movie truly begins to step outside of the 'Undisputed' Banner into a banner of it's own – with "Boyka" being the main title of the film and "Undisputed" being secondary. Although it has more to do with the name of the film it also represents a lot changes in this film as it transcends those that come before it.
First of all – this is the first film which takes place out of prison, the first film in which the lead character fights primarily for someone else (not just himself) and it's the first film to follow the victor of the previous film as opposed to the defeated fighter.  So it's not an "underdog film" and demonstrates a higher level of moral character.
This film also has the best character development of the franchise so far.
Boyka is free and still fighting to prove he's the best but this time he is faced with the death of an opponent in the ring by his hands.  Boyka, being heavily religious, experiences tremendous grief having killed another man for the sake of sport and tries his best to redeem himself by helping out the man's widow – who is in debt to a dangerous loan shark.  Naturally this loan shark recognizes "The King of Prison Fighters" and hires Boyka to fight in his Mixed Martial Arts league to relieve the widow's debt.
We watch as Boyka questions his violent lifestyle and even witness him preventing serious injury to others  whilst fighting in the ring.
The whole film revolves around Boyka fighting for forgiveness and improving his approach to fighting so that he can still prove to the world that he is best fighter whilst not being so destructive and deadly in the process.
The action of this film is fantastic although it isn't as good as the previous. But the story is, in my opinion, far superior.
This film is also available on Blu-ray / DVD
Following Boyka's character
Boyka himself is quite an interesting character when viewed in his totality.  No, I'm not just talking about the crazy-high level of entertaining martial arts.
We watch him go from being on top, a savage champion who will kill anyone in his path to fulfill his mission to becoming a regretful man trying to find his feet and fight his way out of the bad situation. This is further explored (after Undisputed 2 and 3) to further changing his ways in Boyka: Undisputed to become a good person who is out to save his own soul.  All the while he never loses sight of his goal, which is to be known as the most complete fighter in the world.
This very path lends itself toward being incomplete, hinting at more Boyka films coming our way to finish what is quite obviously an unfinished story.
Boyka hasn't reached his goal and it seems the path of becoming a good person is something the story writers want to be infused into his character before reaching that goal. This has also been present in the fight scenes of Boyka: Undisputed as Boyka is reluctant to ground and pound the crap out of his opponents. Perhaps we'll see a shift to more submission based victories in the future? Or a rematch with Chambers?
The fact that Boyka's character has grown so much over the course of these films means there's room for at least another movie, but with his goal of fighting in the world leagues being so seemingly close in his last film, I imagine it could only be within a max of one or two more sequels.
What are your thoughts?
Will we see more films? Or will piracy kill this franchise?
Do you have thoughts on Boyka's evolution as a character?
Which of his films is the best?
Leave your thoughts in the comments below. Thanks for reading, if you want to read more articles like this, please subscribe below.  Enjoy your day!