Jon Foo is a highly talented martial arts movie actor who I first saw fighting Tony Jaa in The Protector  back in 2005.  Since then he's been in a few movies but hasn't really showcased his talent all that well – until I saw him in Bangkok Revenge!
Foo plays Manit, who has lived with and trained with a very skilled Muay Thai trainer for most of his life.  He is very unique in that he feels no human emotion whatsoever, yet his highly skilled in the art of Muay Thai.  When he was a child his parents were murdered and he was shot in the head and left for dead.  He was, however, alive and over time managed to heal but without the 'emotional' part of his brain.
As an adult, the people behind the murder of his parents want him dead when they hear about his reappearance.  Manit then involves himself in the criminal world of Bangkok, helping innocent people and seeking revenge – or 'justice' he calls it since he has no emotion to develop the rage for 'revenge'.  He gets into some sticky situations but naturally uses his top fighting talent to tear apart those involved.
So, no emotion?
I was wondering just how someone seeks revenge without emotion, and kinda feel like the whole going after them for 'justice' is a quick and easy explanation for a bit of a hole in the overall concept of this movie.  But damn it I don't care!
While emotionless, Jon Foo's character Manit is actually not all that different.  He's very reserved and (obviously) has a very stiff personality, but he actually seems to have a decent sense of humor, walking up to a group bashing a woman, standing alongside and casually asking "what's goin on here?" in the most relaxed and casual tone you could imagine.  I had a small laugh to myself.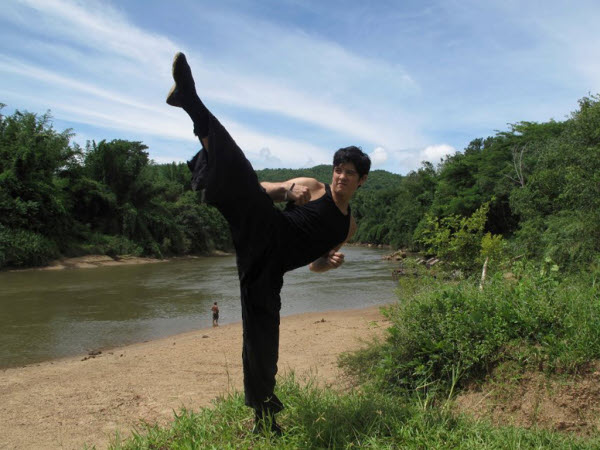 His persona, due to no emotion seems almost careless and he takes nothing that seriously and it's kind of refreshing to watch in my opinion.
But the 'emotionless' side of the movie, although a minor strength, is also it's big weakness.  
Good fights are, in my opinion, driven by emotion, like rage or determination.  With Manit's seemingly careless approach it's hard to relate and get really excited for him when he fights.  While the beginning of the movie is strong, telling a very interesting series of events around Manit's condition, it's also the most interesting aspect of the story.
But we're not watching for the story, we're watching for the action!  I never expected a deep meaningful plot for a movie called 'Bangkok Revenge'.  In my opinion, Jon Foo has taken a step forward with this film which hopefully brings his abilities to a bigger audience, and wins him more roles.
The Action & Martial Arts
Plenty of hard hitting martial arts action is spread so very nicely over this film.
The action isn't the very best you've seen and is even similar to scenes in other movies, there's nothing here which makes it list topper. But it's entertaining nonetheless and serves up a good mix of fast and vicious fighting with a main actor who has both the look and the physical skill to make it believable.
A good use of Thai techniques with elbows and knees gives this movie the 'Muay Thai' feel, mixed with a little acrobatic action showing off Foo's wushu side.  His fights consist mostly of him being almost unbeatable, but he does cop a bit of  beating during some scenes to add a little vulnerability to his character.
It's decent action that I personally found pretty entertaining and exactly what I expected.  But while this movie is held up by it's action there's still so much more potential to tap into.  So I can't wait to see where Jon Foo is taken after this film.