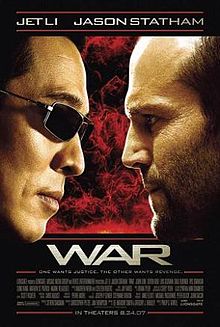 First in 'The One' now in 'War' – Jet Li & Jason Statham team up once again before working in 'The Expendables'. Of all three, this movie would be the weakest of them of all…
Yeah, unfortunately this movie is reasonably ordinary.  It's not horrendous but you can't compare it to an Expendables movie or The One – it just doesn't deliver the goods.
This movie centers around an Assassin named 'Rogue', who is infamously impossible to kill and ridiculously good at his job (yeah, killing people). Detective John Crawford, played by Jason Statham, and his partner Tom Lone cross paths with Rogue and believe they have killed him.  But then John arrives at Tom's house only to be told that Tom and his family have been killed – so he dedicates himself to taking Rogue down.
Naturally Rogue pops up again only a few years later and starts causing trouble between the Chinese Triads and the Japanese Yakuza. When the are shown Rogue's face, reconstructed to look an awful lot like Jet Li (that must be why he's playing the character!) a little game of cat and mouse begins as Statham's character John and Jet Li's character Rogue face off – inevitably having a nice little martial arts fight at the end of the movie.
"It Sucked" – Jet Li
You can't win them all!
Jet Li reportedly stated saying that he didn't think much of Philip G Atwell's skills as a director.  He came to the conclusion that the movie wasn't going to do well halfway through filming. It's a shame, but he was right!
The movie still has some entertainment value though. Watching the two work around each other and seeing things unravel with the nice little twist at the end was cool, but it just seemed so dark, empty and lifeless as the characters seemed very flat.This movie relies mostly on storytelling and pace and it doesn't have a tremendous deal of it to sell, so it's a bit of  fail considering you got two movie legends like Jason Statham and Jet Li as leads.
Being an action movie you expected these two guys to deliver but unfortunately it just doesn't.
The Martial Arts and Action
There's a car chase, and a couple of split second killings by Jet Li and finally a fight between our two main characters that actually had some legit potential but ultimately fell short of entertaining.
With the epic star on star duels over the years that have made movies and boosted careers (I'm thinking Bruce Lee vs Chuck Norris, Donnie Yen & Wu Jing, Scott Adkins & Michael Jai White etc) you'd think Jet Li and Statham would be a big kicker but it just isn't – there was some bad direction there.
What is really disappointing is that each flash of action was cool and simply needed a bit of following up to flesh it out a bit more – despite the choppy editing that Hollywood is known to stupidly use in martial arts fights.  The average Joe might not mind, but a martial arts movie fan is going to be pretty disappointed with it all.
If you do watch this movie – keep an eye out for a younger Kane Kosugi!
The Verdict?
More like a straight to video release than a decent cinematic one, 'War' disappoints with wasted potential and under use of two top martial arts actors.  It's safe to skip this one.
On Blu Ray –
Region A (US & Canada)
War [Blu-ray]
Region B (UK, Australia, New Zealand, Europe etc)
War [Blu-ray]
On DVD –
Region 1 (US & Canada)
War
Region 2 (UK, Europe, etc)
War [DVD]
Region 4 (Australia, New Zealand, etc)
Rogue Assassin