There are endless Bruce Lee Documentaries out there, it seems paying tribute never goes out of fashion!
This documentary was released in the 80's  and is one of the earlier examples.  It was created and released by Golden Harvest, and does a good job of telling Bruce's life story, whilst becoming a bit of a clip show to show off their material – which I feel was the true purpose of them making it.
The movie essentially starts off telling us about Bruce's upbringing and showing clips from the movies he made as a child, before going into his troubles in Hong Kong and eventual move to the San Francisco in the US.  From there you'll see plenty of photos before the footage Bruce is known for from shows like the Green Hornet, and his appearance in Long Street.
Documenting his struggles in the US, they then touch on his travels to Hong Kong, not forgetting to mention how he was turned down by other production companies before Raymond Chow could 'see what he had to offer' right before agreeing to hire him.  You'll then see some obviously rehearsed footage of Raymond behind the scenes (talking in English for some reason to his co workers?) and looking like the man before being interviewed.
Once talk of Bruce making movies has begun, expect to see a lot of fight scenes and clips from the Golden Harvest movies (Big Boss, Fist of Fury and Way of the Dragon) showing off great levels of action while quickly mentioning the Big Boss and getting back to the Golden Harvest films.
There they talk about the similarities between the films and themes the Bruce wanted to incorporate.  They interview co stars and other people who worked along side Bruce and eventually move onto talking about his martial arts.
The talk of Bruce and his training was relatively interesting, but they moved quickly along to talk about Brucesploitation before mentioning the "one true Bruce Lee movie left to be released" *cough cough, Game of Death.
They talk about bringing Bruce Lee's final vision to life which was seen as a bit of a joke by most Bruce Lee fans. Game of Death was pretty ordinary with it's only real value being the footage that Bruce shot. They show behind the scenes footage and some of fight footage Bruce shot.  They then pass the torch to the next star Jackie Chan (also working for Golden harvest at the time).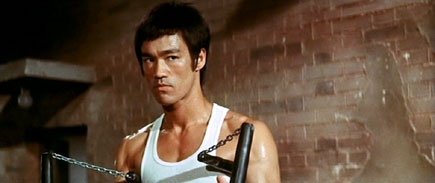 Ultimately the documentary is interesting to watch if you don't know a lot about Bruce, and does serve it's purpose.  Although I can't help but think it's a bit of a show reel for Golden Harvest, as they seem to focus a lot around the movies they've released and promoting them.
I would, however, still recommend checking it out if you're a die hard Bruce Lee fan!
On DVD –
Region 1 (US & Canada)
Bruce Lee – The Legend
Region 2 (UK, Europe, etc)
Bruce Lee – The Legend
Region 4 (Australia, New Zealand, etc)