This movie drew attention not just because it's one of Dolph Lundgren's earlier roles, but one of Brandon Lee's last.  For Brandon it was made in 1991 and is followed only by Rapid Fire and The Crow.
You've got 2 cops – Chris Kenner who is played by Dolph Lundgren, and Johnny Murata who is played by Brandon Lee.  Ironiocally Chris is a massive white guy who grew up in Japan and has a vast understanding of their culture while Johnny, half Japanese knows little to nothing as he was raised in the United States.  Both men are dedicated to their jobs, but even more dedicated to the martial arts.
During a case in Little Tokyo, Chris and Johnny step in to make an arrest but something happens – Chris pulls a gun on the main suspect putting both men in a dangerous position.  After leaving and making no arrests, Chris reveals to Johnny that the man they encountered murdered his parents when he was a child – he saw the whole thing unfold and even sliced  the man Yoshida, who is the leader of the Iron Claw, right down the face with his own sword.
Naturally things escalate and they rescue a young woman named Minako (played by Tia Carrere) and start making life difficult for the Ironclaw.  They then continue to bite back and fight until the finale when Dolph Lundgren puts on a crazy costume and headband and starts tearing the bad guys a new one – with the help of Brand Lee's character Johnny of course!
Dolph & Brandon – A Win!
Dolph plays the alpha male – a super macho and unstoppable fighter who calls the shots, while Brandon Lee's character sort of follows and points out some of the stupider things he does, before the two both agree on each course of action.
While Dolph's character is pretty standard and two dimensional – calm, huge and deeply traditional with little to no sense of humor, Brandon's is the opposite.  Brandon's character Johnny is a bit more of a smart ass, he's a bit more animated and light hearted in many ways, but also more serious in others – like when Chris puts both of them into a position that's hard to escape from.  While Chris seems unworried and super macho, Johnny's making noise and letting him know how stupid his actions are.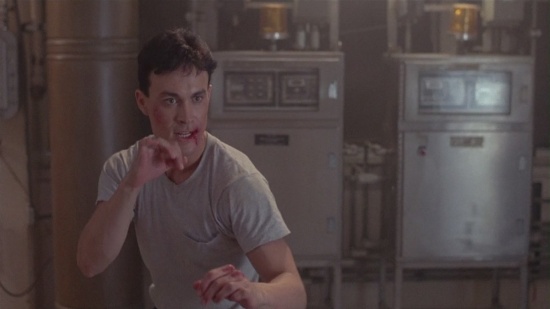 Ultimately I think this movie would not have worked without Brandon's onscreen persona to balance out the ridiculous over the top macho of Dolph's character. The contrast works and creates a natural sort of partnership.
The Action & Martial Arts
Both actors have ability and use it well in this movie – but it's still pretty standard.  Being an American film there's always guns being pulled out of every ass and corner to blow people away with.  But then of course as both sides run out of bullets – the martial arts begin!
The moves and choreography are technically great, but there's nothing outstanding.  The intensity is pretty standard as is the speed – it all seems very balanced and structured to help the audience see (a little too clearly) each move the actor makes.
Dolph's moves using the moves of a big guy – powerful and grounded, while Brandon's are little more fluid – I feel his performance may have been a little held back, especially after seeing his next movie – Rapid Fire.
The Verdict?
It's ok.  What you can expect is a pretty basic storyline with a very 'safe' level of everything – a little humor, a little seriousness and decent blend of martial arts and gun work.  It all seems pretty by the book.  What makes this movie entertaining is the chemistry between Dolph Lundgren and Brandon Lee's characters.  A good entertaining time killer, but definitely not a list topper.