Less martial arts, more drama – Jackie Chan and Sammo Hung star in this film called Heart of the Dragon and offer something a little different than their usual flavour of film.
Fear not! There are some martial arts arts and action in this film!  The plot, on paper at least, fits the bill.
Jackie is Tat Fung –  a SWAT man turned cop. he cares for his older brother who has mental disabilities and difficulty tackling the real world.
When a police operation goes bad a member of a gang escapes with some stolen goods worth millions of dollars and the police chase him. He comes across Tat's mentally handicapped brother Dodo Fung, played by Sammo Hung, who is playing cops and robbers – he sees the gun and turns to run away, tripping over and dropping the bag.
Believing he'll be in trouble he and his young friend hide the bag by burying it.  Paths cross and eventually Dodo is caught up in the mess and in trouble with the police, the gangsters and Jackie is the one who has to sort it it out by resorting to tremendous physical skills!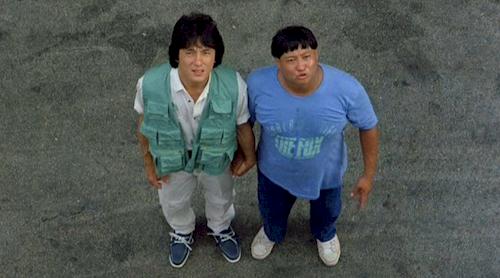 But ultimately, this movie is really quite sad and dramatic.
The film tells a story of true sacrifice and manages to become a bit of a tear jerker throughout.  Jackie's character is struggling to care for his older brother.  He sticks up for him, keeps him out of danger and is crushed that his own brother cannot support himself and is the target of ridicule amongst many around him – including his tutor who very quickly gets fired.
Jackie creates a grand plan to follow his dreams and become a sailor but is forced into realizing that it cannot happen and that he must care for his brother. We see some very emotional scenes as this fact is realized and the innocence of Sammo Hung's character is portrayed so perfectly that you can't help but feel for both men.
This general flow and feeling of the film continues right until the very end, which I won't spoil.  But the film is ultimately a very sad tale with a hint of reality – some people do deal with problems very close to these (apart from some of Jackie Chan's fights maybe).
I take my hat off to both Jackie and Sammo for their acting talents in this film.  They've proved they are more than just stunt men but professional actors as well.
The action is very slim.  There's a chunk at the end of the film at it represents the usual Jackie Chan style as he fights off the gang of baddies.It's decent work but definitely not his best.
Ultimately this film is a well told drama with action tacked on the end – I guess they gotta sell it right? If you're looking for action, this film isn't what you're after.