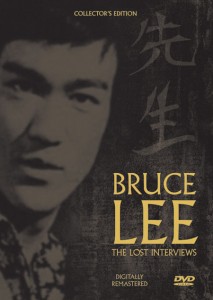 OK so this is a DVD, not a movie or Documentary, but I thought it was worth a review.
Bruce Lee, the lost interviews is a DVD containing some of the only remaining recorded interviews with Bruce Lee.  It contains the famous interview on the Pierre Berton show, but also two phone interviews and the original screen test Bruce took for the Green Hornet TV series.
The Pierre Berton Interview
This interview is the only surviving video interview with Bruce outside of his screen test.  It was recorded in 1971, and it is after the release of the Big Boss.
Bruce shares with Pierre his thoughts on his movies, the movie industry in both the United States and Hong Kong while also touching on his philosophy on the martial arts and culture.
It is an interview which allowed Bruce to not only answer the questions Pierre had for him, but also conduct a relaxing interview which seemed to naturally grow into more of a friendly conversation between both men.  As Bruce answers questions he brings up important points and expresses his feelings towards certain things.
Most interesting is that Bruce doesn't just answer questions in this interview, but continues on to explain what's behind his answer.  It goes without saying, he had a bit to say about martial arts, expanding on questions about his career.
Bruce is even asked 'what the best form of martial arts is to practice" and "who is the better martial artist – James Coburn or Steve McQueen?" – naturally Bruce has an intelligent answer that isn't black and white.    He offers thoughtful insight behind each question, and we learn a little more about the martial arts when he answers these questions.
I liked this interview simply because it was so natural.  The two make jokes and have a good discussion about a lot of interesting topics.  This interview ends with some classic Bruce Lee wisdom, after he is asked whether he sees himself as American or Chinese – stating that is simply a human being.
The Phone Interviews
The phone interviews aren't too bad, but don't really offer much new information, especially if you watch the Pierre Berton Show interview first.
Alex Ben Block and Ted Thomas conduct phone interviews with Bruce asking him about his career, the martial arts and his life.  Much of these questions are similar to those of the Pierre Berton interview, as are much of the answers.
The difference is that Bruce isn't as respected or given as much time to explain himself as in the video interview, and the answers are pretty straight and blunt – as are the interviewers.
Both men ask standard questions, but Alex Ben Block seems to interested in finding out pretty useless info asking Bruce "How tall are you?", "what do you weigh?"  "Do you have kids?" and not expanding on those questions.
Bruce however is friendly as always, but is short on time to answer the questions.  In the Alex Ben Block Interview he is working on Way of the Dragon (which at this point he calls Enter the Dragon), and claims he must get back to it, the crew are saying it's time to get back to work and he won't have to time to eat at lunch.  Naturally Alex seems to ignore him and keeps asking questions – just a small thing that annoyed me.
They're interesting enough to listen to, but don't expect any new information about the man.
The William Cheung Interview
This was an intersting interview.
This time we hear Bruce's Wing Chun instructor (assistant instructor under Ip Man) William Cheung reminicse about his friend Bruce.  William first introduces himself, and tells us a little about Ip Man, himself and Wing Chun before talking about Bruce.
William offers some personal insight into Bruce, revealing certain thoughts about him that aren't as mainstream as the documentaries, books and magazines  have to say.
He mentions a lot of topics about Bruce in his later life that seem to be overlooked, and also tells us about his life whilst teaching Bruce the basics of Wing Chun – stating that Bruce taught him so much about martial arts merely by the way he practiced.  William claims that he is a far better martial artist based on the approach Bruce had, with his sometimes 'annoying' persistence to master a move before continuing onto the next.
This is the longest interview on the DVD, but is worth it's weight in gold.  Check this interview out for a different angle on Bruce Lee.
The Bruce Lee Screen Test
This is more of a historical piece than a formerly conducted interview, but Bruce explains a little of his background and experience during it.
Bruce is asked to take a few shots, and then answer a few simple questions.  But once the martial arts questions are asked, Bruce lights up just a little.  He demonstrates certain moves and discusses some thought and philosophies on the arts.
Once he is in demonstration he seems unbothered by the cameras and becomes the showman he is known for.  His knowledge flows out and he demonstrates the moves with such speed and precision, it's really incredible to see him demonstrating authentic martial arts for the camera without the added 'flashy moves' he incorporates in his movies.
This is another gem which should be seen by all Bruce Lee fans.
Overall?
This is a DVD for Bruce Lee fans – a must have.  The Pierre Berton interview, the screen test and the William Cheung interview are fantastic.  While the phone interviews are so-so, they're worth listening to and can be considered a bonus.  Check it out!
There's not a lot of options with this as it's just the DVD itself.
It is region free however so anyone can buy and watch it.
I recommend it!
On DVD –
Region Free (Anywhere!)
Bruce Lee: the Lost Interviews [DVD]